Star Wars: 30th Anniversary Collection Volume 5: Light and Dark is the fifth of the Star Wars: 30th Anniversary Collection TPBs, released July 4, 2007. It is a hardcover version of Star Wars: Clone Wars Volume 4: Light and Dark.
Publisher's summary
Edit
The Clone Wars have begun, and what it means to be a Jedi will be changed forever! Taking on new roles as generals, warriors, and even spies, the Jedi face difficult choices about their ideals, and what they are willing to sacrifice for the Republic they are sworn to protect.
Jedi Master Quinlan Vos has had more than his share of brushes with the dark side of the Force, which is exactly why he is chosen to pierce the inner circle of Count Dooku, the ex-Jedi Separatist leader. Yet to complete his mission, Vos must plunge headlong into the shadow of the dark side—a path from which there may be no return!
Collected issues
Edit
External links
Edit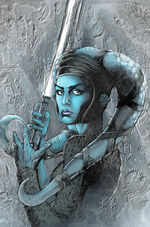 Ad blocker interference detected!
Wikia is a free-to-use site that makes money from advertising. We have a modified experience for viewers using ad blockers

Wikia is not accessible if you've made further modifications. Remove the custom ad blocker rule(s) and the page will load as expected.