Star Wars: 30th Anniversary Collection Volume 6: Endgame is the sixth of the Star Wars: 30th Anniversary Collection TPBs, released on July 25, 2007. It is a hardcover version of Clone Wars Volume 9: Endgame.
Publisher's summary
Edit
Witness the untold stories of the Jedi who took a last stand against Emperor Palpatine in the moments during, and immediately after, the events in Revenge of the Sith!
Quinlan Vos wages a battle of impossible odds against his own troops to protect his loved ones, Jedi Master Kai Huddora takes a terrified Padawan into his charge after her own master falls to Order 66, Dass Jennir finds himself in league with a band of rebels he'd led attacks against only days before, and a brave few Jedi will plot to topple Sith rule—by setting a trap for the newly unveiled Darth Vader!
Collected issues
Edit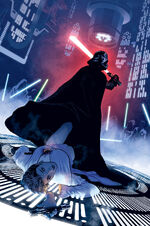 External links
Edit
Ad blocker interference detected!
Wikia is a free-to-use site that makes money from advertising. We have a modified experience for viewers using ad blockers

Wikia is not accessible if you've made further modifications. Remove the custom ad blocker rule(s) and the page will load as expected.