Ad blocker interference detected!
Wikia is a free-to-use site that makes money from advertising. We have a modified experience for viewers using ad blockers

Wikia is not accessible if you've made further modifications. Remove the custom ad blocker rule(s) and the page will load as expected.
Star Wars: A Musical Journey is a DVD collection of music video clips from the Star Wars films, set to selected themes from John Williams's scores. Each clip features an introduction by actor Ian McDiarmid. The program can be watched with or without this introduction. It also contains a preview trailer for the Revenge of the Sith video game.
A Musical Journey was originally included as a bonus disc with the 2005 soundtrack album for Star Wars: Episode III Revenge of the Sith.[1] It will soon be included in the January 2016 release of Star Wars: The Ultimate Soundtrack Edition.[2]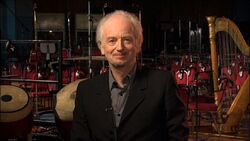 Star Wars: A Musical Journey contains the following chapters, each a video clip set to a specific John Williams composed theme:
A Long Time Ago -
"20th Century Fox Fanfare" / "Star Wars Main Title" (from all of the films) - Showing several clips from the first 5 Star Wars Films
Dark Forces Conspire -
"Duel of the Fates" (from Star Wars: Episode I The Phantom Menace) - The Battle of Naboo and Geonosis
A Hero Rises -
"Anakin's Theme" (from The Phantom Menace) - Anakin's journey in Episode I
A Fateful Love -
"Across the Stars" (from Star Wars: Episode II Attack of the Clones) - Anakin and Padme falling in love
A Hero Falls -
"Battle of the Heroes" (from Star Wars: Episode III Revenge of the Sith) - The end of the Clones Wars and the fall of Anakin Skywalker
An Empire Is Forged -
"The Imperial March" (from Star Wars: Episode V The Empire Strikes Back) - All scenes of the Empire
A Planet That Is Farthest From -
"The Dune Sea Of Tatooine" / "Jawa Sandcrawler" (from Star Wars: Episode IV A New Hope) - All Tatooine Scenes
An Unlikely Alliance -
"Binary Sunset" / "Cantina Band" (from A New Hope) - Luke's journey in Episode IV
A Defender Emerges -
"Princess Leia's Theme" (from A New Hope) - Princess Leia Scenes
A Jedi Is Trained -
"Yoda's Theme" (from The Empire Strikes Back) - Luke's Training on Dagobah
A Narrow Escape -
"The Asteroid Field" (from The Empire Strikes Back) - Hot Pursuits and Escapes
A Bond Unbroken -
"Luke and Leia" (from Star Wars: Episode VI Return of the Jedi) - Luke and Leia being Brother and Sister
A Sanctuary Moon -
"In The Forest (Concert Suite)" (from Return of the Jedi) - The Battle of Endor and Naboo
A Life Redeemed -
"Light Of The Force" (from Return of the Jedi) - The Fall of Darth Vader and Redemption of Anakin Skywalker
A New Day Dawns -
"The Throne Room" / "Finale" (from A New Hope) - The end of the Empire and the return of the Jedi
DVD credits
Edit
Executive Producer: Howard Roffman
Director: Tippy Bushkin
Editor: Jeremy Stuart
Motion Graphics: Kyle Ruddick
Bibliography
Edit
Notes and references
Edit
↑  Episode III Soundtrack Includes Bonus DVD on StarWars.com (content now obsolete; backup link on Archive.org)