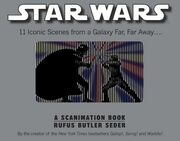 Star Wars: A Scanimation Book is a book by Rufus Butler Seder and published by Workman Publishing. It was released on May 12 2010.
Online Description
Edit
The book and its patented technology are an evolution of some of the antique optical toys of yesteryear — it uses scrambled artwork overlaid by a striped clear sheet that produces the illusion of motion. It's both high-tech and traditional — a movie without a screen, and a book that comes to life.
Star Wars: A Scanimation Book takes 11 iconic scenes from a galaxy far, far away...
External links
Edit