Star Wars: Clone Wars Adventures Volume 9 is the ninth volume in the Clone Wars Adventures series. It was published by Dark Horse Comics on October 24, 2007.
Back cover summary
Edit
Inspired by the Cartoon Network's Clone Wars cartoons, this comic-book [sic] series uses the television show as a jumping-off point to tell new stories of heroism and villainy in the same stripped-down visual style.
Braves the wilds of Dractu!
Becomes a scavenger's cargo!
Battles in the sewers of Coruscant!
Discovers a lost city!
Incredible action, hot art, and lightning-fast pacing are coming your way in this exciting take on the Star Wars galaxy!
Publisher's summary
Edit
The battle for the fate of the galaxy is on, and you've got a front seat! The Clone Wars have spread to every corner of the Star Wars universe, bringing with it more death-defying Jedi rescues, more terrifying monster attacks, and more planet-shaking confrontations between armies of droids and clones! Featuring four new all-ages adventures, this volume is jam-packed with only the most awesome heroes and most dastardly villains locked in a conflict of epic proportions!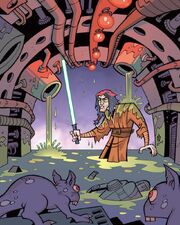 External links
Edit
Ad blocker interference detected!
Wikia is a free-to-use site that makes money from advertising. We have a modified experience for viewers using ad blockers

Wikia is not accessible if you've made further modifications. Remove the custom ad blocker rule(s) and the page will load as expected.