Star Wars: Empire: Volume Six: In the Shadows of Their Fathers is the sixth collection of Star Wars: Empire comics.
Publisher's summary
Edit
Luke Skywalker confronts the legacy of the Jedi father he never knew in an epic story involving Princess Leia, Darth Vader, and the fate of an entire planet!
When Luke and Leia travel to Jabiim recruiting allies for the fledgling Rebellion, they unwittingly set into motion events that will ignite one man's betrayal of his people, pit rebel hero against rebel hero, and attract the attention of the Empire's deadliest enforcer—Darth Vader!
• This action-packed tale sheds new light on Anakin Skywalker's actions at the Battle of Jabiim during the Clone Wars.
Collected issues
Edit
External links
Edit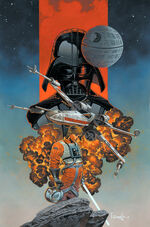 Ad blocker interference detected!
Wikia is a free-to-use site that makes money from advertising. We have a modified experience for viewers using ad blockers

Wikia is not accessible if you've made further modifications. Remove the custom ad blocker rule(s) and the page will load as expected.