Star Wars: Episode III — Revenge of the Sith 2 was the second issue in the Star Wars: Episode III — Revenge of the Sith series of comics. It was released March 23, 2005 and tells the approximate second half-hour of the film beginning with Anakin Skywalker's nightmare to Palpatine revealing himself as Darth Sidious (which is intercut with Obi-Wan's duel with General Grievous on Utapau).
Publisher's summary
Edit
Based on the screenplay by George Lucas—the official comics adaptation of the most anticipated of the Star Wars films! The action of the Clone Wars comes to a dramatic conclusion, and events are put in place for A New Hope.
Battles rage in space, armies clash on alien worlds, heroes become martyrs, and friends become enemies—and the galaxy is forever changed!
Shipping weekly, this four-issue series features art by Doug Wheatley (Star Wars: Empire volume 2-Darklighter)—who brings a level of life and detail to the adaptation that rivals that of the films themselves—with covers by Dave Dorman!
Collections
Edit
External links
Edit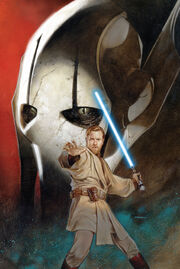 Ad blocker interference detected!
Wikia is a free-to-use site that makes money from advertising. We have a modified experience for viewers using ad blockers

Wikia is not accessible if you've made further modifications. Remove the custom ad blocker rule(s) and the page will load as expected.