Jedi vs. Sith collects all six issues from the Star Wars: Jedi vs. Sith series of comics. It was released May 1, 2002.
Publisher's summary
Edit
According to legend, the Sith always number two -- a Master and an apprentice. It was not always this way. A thousand years ago the Sith were many and they battled endlessly with the Jedi Army of Light. Lord Kaan ruled the Sith Brotherhood of Darkness and sought the destruction of Lord Hoth and his Jedi followers. Recruited into the war by a scout, three friends venture onto the battleground and march into destinies far greater and different than any of them could have ever imagined...
Collected Issues
Edit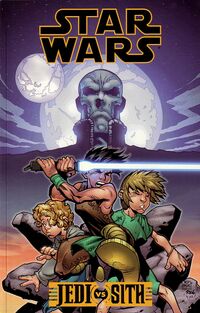 Ad blocker interference detected!
Wikia is a free-to-use site that makes money from advertising. We have a modified experience for viewers using ad blockers

Wikia is not accessible if you've made further modifications. Remove the custom ad blocker rule(s) and the page will load as expected.