Star Wars: Knights of the Old Republic 23: Knights of Suffering, Part 2
Talk

0
107,635pages on
this wiki
Star Wars Knights of the Old Republic 23: Knights of Suffering, Part 2 is the twenty-third issue in the Star Wars: Knights of the Old Republic series of comics.
Publisher's summary
Edit
Fugitive Padawan Zayne Carrick left Taris vowing to catch his murderous Masters before they caught him. Now, he's returned—only to find the planet under siege by Mandalorian invaders. And there's someone else waiting for him—who's about to turn the tables on all his plans!
Nearly alone in a war zone, Zayne is surrounded by enemies. Some want him brought to justice. Others want the bounty on his head. And the Mandalorians just want the whole planet! And when even friends become enemies, he finds himself at the mercy of someone who has no mercy—one of his former Masters!
Building toward the culmination of the yearlong "Days/Knights" sequence, the long-awaited return to Taris also includes several familiar faces from the Knights of the Old Republic video games!
Appearances
Edit
Characters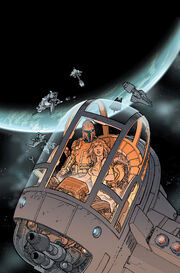 Creatures
Droid models
Events
Locations
Organizations and titles
Sentient species
Vehicles and vessels
Weapons and technology
Miscellanea
News Organ
Edit
Behind the scenes
Edit
In the second panel on the first page, you can see a Dynamic-class freighter, possibly the Ebon Hawk, in the hologram in front of Cassus Fett.
Collections
Edit
External links
Edit