Star Wars: Knights of the Old Republic: Destroyer is the eighth trade paperback of the Star Wars: Knights of the Old Republic series of comics. It was released in January, 2010.
Publisher's summary
Edit
Knights of the Old Republic: Destroyer begins with an untold chapter from the lives of Malak and Revan—stars of the KotOR video game! From there, it takes us to a death-defying shootout on the face of a comet and into the heart of one of the cruelest organizations in the galaxy—the Crucible. Former Padawan Zayne Carrick risks not just his life, but also his sanity, to help his friend Jarael face her dark past. Zayne may have set off for adventure, but what he finds are irreversible consequences for himself and his crew in a dangerous, unforgiving galaxy.
Collected issues
Edit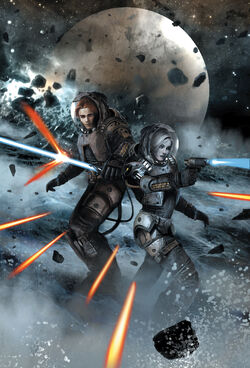 Ad blocker interference detected!
Wikia is a free-to-use site that makes money from advertising. We have a modified experience for viewers using ad blockers

Wikia is not accessible if you've made further modifications. Remove the custom ad blocker rule(s) and the page will load as expected.