Star Wars: Outpost was a canceled Star Wars game from LucasArts. It was a Star Wars version of FarmVille, allowing players to build empires. It had already gone through Q&A testing before being canceled.[1]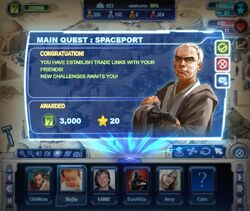 The game had been planned for release on browsers and mobile platforms. Despite its similarities to FarmVille, the game included some "very hardcore" elements such as the ability to betray other players for resources and strategy-based gameplay inspired by titles such as Settlers of Catan and EVE Online.[2]
Notes and references
Edit
Ad blocker interference detected!
Wikia is a free-to-use site that makes money from advertising. We have a modified experience for viewers using ad blockers

Wikia is not accessible if you've made further modifications. Remove the custom ad blocker rule(s) and the page will load as expected.