Ad blocker interference detected!
Wikia is a free-to-use site that makes money from advertising. We have a modified experience for viewers using ad blockers

Wikia is not accessible if you've made further modifications. Remove the custom ad blocker rule(s) and the page will load as expected.
Star Wars: Republic, known simply as Star Wars for its first forty-five issues, was a series of comics published by Dark Horse Comics. The first issue came out on December 16, 1998. It ran for 83 issues, spanning from before The Phantom Menace to after Revenge of the Sith. Starting with issue #49, it became the main Clone Wars comic. It was continued in the Star Wars: Dark Times series, which takes place in the early days of the Galactic Empire, with continuous numeration from the Clone Wars series on the inside cover of each issue beginning with issue #84. Issues of Dark Times are independently numerated on the cover.
Issue
Title
Publication date
Trade paperback(s)
TPB pub date
As Star Wars
0
Prelude to Rebellion 0
December 1, 1998
Prelude to Rebellion
Prelude to Rebellion
May 30,
2000
1
Prelude to Rebellion, Part 1
December 16, 1998
2
Prelude to Rebellion, Part 2
January 27, 1999
3
Prelude to Rebellion, Part 3
February 17, 1999
4
Prelude to Rebellion, Part 4
March 17, 1999
5
Prelude to Rebellion, Part 5
April 21, 1999
6
Prelude to Rebellion, Part 6
May 19, 1999
Outlander
Outlander
April 4,
2001
7
Outlander, Part 1
June 23, 1999
8
Outlander, Part 2
July 28, 1999
9
Outlander, Part 3
August 25, 1999
10
Outlander, Part 4
September 22, 1999
11
Outlander, Part 5
October 27, 1999
12
Outlander, Part 6
November 24, 1999
Emissaries to Malastare
Emissaries to Malastare
September 5,
2001
13
Emissaries to Malastare, Part 1
December 22, 1999
14
Emissaries to Malastare, Part 2
January 26, 2000
15
Emissaries to Malastare, Part 3
February 23, 2000
16
Emissaries to Malastare, Part 4
March 22, 2000
17
Emissaries to Malastare, Part 5
April 26, 2000
18
Emissaries to Malastare, Part 6
May 24, 2000
Twilight
Twilight
December 19,
2001
19
Twilight, Part 1
June 28, 2000
20
Twilight, Part 2
July 26, 2000
21
Twilight, Part 3
August 23, 2000
22
Twilight, Part 4
September 27, 2000
Infinity's End
None
23
Infinity's End, Part 1
October 25, 2000
24
Infinity's End, Part 2
November 22, 2000
25
Infinity's End, Part 3
December 27, 2000
26
Infinity's End, Part 4
January 31, 2001
27
Starcrash
February 28, 2001
The Hunt for Aurra Sing
The Hunt for Aurra Sing
July 3,
2002
28
The Hunt for Aurra Sing, Part 1
March 28, 2001
29
The Hunt for Aurra Sing, Part 2
April 25, 2001
30
The Hunt for Aurra Sing, Part 3
May 30, 2001
31
The Hunt for Aurra Sing, Part 4
June 27, 2001
Darkness
Darkness
August 7,
2002
32
Darkness, Part 1
July 25, 2001
33
Darkness, Part 2
August 22, 2001
34
Darkness, Part 3
September 26, 2001
35
Darkness, Part 4
October 24, 2001
The Stark Hyperspace War
The Stark Hyperspace War
November 13,
2003
36
The Stark Hyperspace War, Part 1
November 28, 2001
37
The Stark Hyperspace War, Part 2
December 19, 2001
38
The Stark Hyperspace War, Part 3
January 23, 2002
39
The Stark Hyperspace War, Part 4
February 20, 2002
The Devaronian Version
None
40
The Devaronian Version, Part 1
March 20, 2002
41
The Devaronian Version, Part 2
May 8, 2002
Rite of Passage
Rite of Passage
February 11,
2004
42
Rite of Passage, Part 1
May 15, 2002
43
Rite of Passage, Part 2
July 3, 2002
44
Rite of Passage, Part 3
August 7, 2002
45
Rite of Passage, Part 4
September 25, 2002
As Star Wars: Republic
Honor and Duty
Honor and Duty
May 10,
2006
46
Honor and Duty, Part 1
October 16, 2002
47
Honor and Duty, Part 2
December 11, 2002
48
Honor and Duty, Part 3
January 8, 2003
78
Loyalties
October 19, 2005
49
Sacrifice
January 22, 2003
Clone Wars Volume 1:
The Defense of Kamino
July 9,
2003
50
The Defense of Kamino
February 26, 2003
The New Face of War
Clone Wars Volume 2:
Victories and Sacrifices
July 9,
2003
51
The New Face of War, Part 1
March 23, 2003
52
The New Face of War, Part 2
April 9, 2003
53
Blast Radius
April 30, 2003
54
Double Blind
June 4, 2003
Clone Wars Volume 4:
Light and Dark
June 9,
2004
63
Striking from Shadows
April 17, 2004
The Battle of Jabiim
Clone Wars Volume 3:
Last Stand on Jabiim
February 24,
2004
55
The Battle of Jabiim, Part 1
July 2, 2003
56
The Battle of Jabiim, Part 2
July 3, 2003
57
The Battle of Jabiim, Part 3
September 24, 2003
58
The Battle of Jabiim, Part 4
December 17, 2003
59
Enemy Lines
December 31, 2003
60
Hate and Fear
January 28, 2004
Clone Wars Volume 5:
The Best Blades
November 24,
2004
61
Dead Ends
February 18, 2004
62
No Man's Land
March 17, 2004
64
Bloodlines
April 28, 2004
Show of Force
Clone Wars Volume 6:
On the Fields of Battle
June 20,
2005
65
Show of Force, Part 1
June 2, 2004
66
Show of Force, Part 2
June 30, 2004
67
Forever Young
August 4, 2004
68
Armor
August 25, 2004
Dreadnaughts of Rendili
69
Dreadnaughts of Rendili, Part 1
September 29, 2004
70
Dreadnaughts of Rendili, Part 2
October 27, 2004
71
Dreadnaughts of Rendili, Part 3
November 24, 2004
Trackdown
Clone Wars Volume 8:
The Last Siege, the Final Truth
March 22,
2006
72
Trackdown, Part 1
December 29, 2004
73
Trackdown, Part 2
February 9, 2005
Siege of Saleucami
74
Siege of Saleucami, Part 1
March 23, 2005
75
Siege of Saleucami, Part 2
April 27, 2005
76
Siege of Saleucami, Part 3
June 15, 2005
77
Siege of Saleucami, Part 4
July 20, 2005
Into the Unknown
Clone Wars Volume 9:
Endgame
July 26,
2006
79
Into the Unknown, Part 1
November 9, 2005
80
Into the Unknown, Part 2
December 21, 2005
Hidden Enemy
81
Hidden Enemy, Part 1
January 4, 2006
82
Hidden Enemy, Part 2
January 11, 2006
83
Hidden Enemy, Part 3
February 8, 2006
30th Anniversary Collection
Edit
Dark Times continuation series issuesEdit
Issue
Title
Publication date
Trade paperback
TPB pub date
Omnibus collection
Omnibus pub date
The Path to Nowhere
Volume One
The Path to Nowhere
January 9, 2008

Star Wars Omnibus:
Dark Times Volume 1

January 1, 2014

84
The Path to Nowhere, Part 1
November 8, 2006
85
The Path to Nowhere, Part 2
January 24, 2007
86
The Path to Nowhere, Part 3
May 9, 2007
87
The Path to Nowhere, Part 4
July 18, 2007
88
The Path to Nowhere, Part 5
October 10, 2007
Parallels
Volume Two
Parallels
August 13, 2008
89
Parallels, Part 1
October 24, 2007
90
Parallels, Part 2
December 19, 2007
91
Parallels, Part 3
January 30, 2008
92
Parallels, Part 4
February 20, 2008
93
Parallels, Part 5
April 23, 2008
Vector
Vector Volume 1
Chapters 1 & 2
January 28, 2009
94
Vector, Part 5
May 29, 2008|
95
Vector, Part 6
June 25, 2008
Dark Times: Blue Harvest
Volume Four
Blue Harvest
November 17, 2010
N/A
Blue Harvest 0
August 5, 2009
96
Blue Harvest, Part 1
April 22, 2009
97
Blue Harvest, Part 2
August 12, 2009
98
Blue Harvest, Part 3
January 20, 2010
99
Blue Harvest, Part 4
April 14, 2010
100
Blue Harvest, Part 5
June 30, 2010
Dark Times: Out of the Wilderness
Volume Five
Out of the Wilderness
October 24, 2012
101
Out of the Wilderness 1
August 3, 2011
102
Out of the Wilderness 2
September 7, 2011
103
Out of the Wilderness 3
November 30, 2011
104
Out of the Wilderness 4
February 22, 2012
105
Out of the Wilderness 5
April 25, 2012
Dark Times: Fire Carrier
Volume Six
Fire Carrier
September 25, 2013
106
Fire Carrier 1
February 6, 2013
107
Fire Carrier 2
March 6, 2013
108
Fire Carrier 3
April 3, 2013
109
Fire Carrier 4
May 1, 2013
110
Fire Carrier 5
June 5, 2013
Dark Times: A Spark Remains
Volume Seven
A Spark Remains
April 30, 2014
111
A Spark Remains 1
July 17, 2013
112
A Spark Remains 2
August 21, 2013
113
A Spark Remains 3
September 18, 2013
114
A Spark Remains 4
October 30, 2013
115
A Spark Remains 5
December 18, 2013
Story arcs
Edit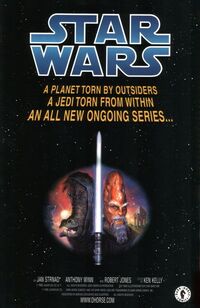 Classic Trilogy appearances
Edit
Several characters from the original three Star Wars films made appearances throughout the Republic series. Obi-Wan Kenobi, Anakin Skywalker/Darth Vader, Yoda, and Emperor Palpatine/Darth Sidious all made regular appearances in the book. In addition, the following characters made cameo or brief appearances:
Related Characters
Edit