Rite of Passage was the tenth story arc in Star Wars: Republic and the final storyarc under the series name Star Wars. A second edition TPB was later published in 2004.
Publisher's summary
Edit
A royal heir has been kidnapped -- along with Jedi Master Tholme, who was protecting the boy. Now two of Tholme's former Padawans have teamed up to rescue their Master, unaware of the forces arrayed against them.
Their most immediate foes are a father and son team of Morgukai assassins, who have the training and the weapons to go toe-to-toe with Jedi. But behind it all are the machinations of the notorious Count Dooku!
Appearances
Edit
Characters
Creatures
Droid models
Events
Locations
Organizations and titles
Sentient species
Vehicles and vessels
Weapons and technology
Miscellanea
Collected issues
Edit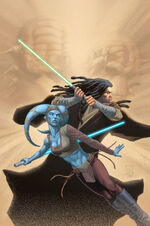 Notes and references
Edit
↑ Star Wars: Republic: Rite of Passage (TPB)
Ad blocker interference detected!
Wikia is a free-to-use site that makes money from advertising. We have a modified experience for viewers using ad blockers

Wikia is not accessible if you've made further modifications. Remove the custom ad blocker rule(s) and the page will load as expected.