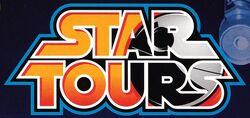 The Star Wars: Star Tours toy line was released exclusively to Disney Theme Parks, released from 2002 to the present day. It included characters and vehicles that were part of the Star Tours attraction, Disney/Star Wars character crossovers, and repackaged items from other Star Wars toy lines. The toys came in varied formats, including standard action figures, PVC figurines and miniature figures. Most figures released reflected the style of packaging of the regular Hasbro Star Wars collections being produced at the time.
A new series of merchandise, including toys, was released to coincide with the new version of the attraction, Star Tours: The Adventures Continue, opening in May (Disney's Hollywood Studios) and June (Disneyland) of 2011.
Continuity
Edit
Characters
Droid models
Organizations and titles
Sentient species
Vehicles and vessels
Disney Racers
Edit
A series of die-cast racing cars designed to resemble Star Wars characters or vehicles
Disney character crossovers
Edit
Filmore as Yoda
Lightning McQueen as Luke Skywalker
Luigi and Guido as C-3PO and R2-D2
Mater as Darth Vader
Sally as Princess Leia
Tractor as Stormtrooper
The Muppets
Edit
Uncle Deadly as Emperor Palpatine
Bean Bunny as Wicket W. Warrick
Camilla Chicken as a Royal Guard
Camilla Chicken as a Stormtrooper
Animal as Boba Fett
Scooter as Lando Calrissian
Link Hogthrob as Han Solo in Carbonite
Dr. Bunsen Honeydew as R2-D2
Beaker as C-3PO
Sam Eagle as Obi-Wan Kenobi
Fozzie as Chewbacca
Gonzo as Darth Vader
Kermit as Luke Skywalker
Miss Piggy as Leia Organa
Rizzo as Yoda
External links
Edit
Ad blocker interference detected!
Wikia is a free-to-use site that makes money from advertising. We have a modified experience for viewers using ad blockers

Wikia is not accessible if you've made further modifications. Remove the custom ad blocker rule(s) and the page will load as expected.