The Star Wars: Tales of the Jedi — The Sith War trade paperback is a graphic novel collecting all six issues in the Star Wars: Tales of the Jedi — The Sith War comic series. It was published by Dark Horse Comics on July 1, 1996.
Publisher's Summary
Edit
To become a Jedi, it is not the Force one must learn to control but oneself. Ulic Qel-Droma has spent a lifetime learning to control the Force. But now, having tasted power, Qel-Droma cannot fight the dark hunger inside him...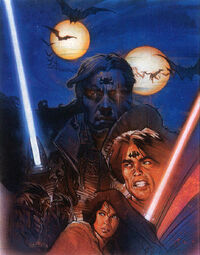 Notes and references
Edit
External links
Edit
Ad blocker interference detected!
Wikia is a free-to-use site that makes money from advertising. We have a modified experience for viewers using ad blockers

Wikia is not accessible if you've made further modifications. Remove the custom ad blocker rule(s) and the page will load as expected.