Star Wars: The Interactive Video Board Game
Talk

1
103,535pages on
this wiki
Star Wars: The Interactive Video board game
Assault on the Death Star
Developer(s)

Hasbro

Timeline
Release date
Star Wars: The Interactive Video Game Board, subtitled Assault on the Death Star, was a board game created by Hasbro in 1996. The game consisted of a VHS tape of pre-recorded events and a regular boardgame. Players watched an introduction on the video, then played the boardgame, with other video clips interspersed throughout the game. In this game, the video footage was of Darth Vader walking down the halls of the Death Star.
Darth Vader has ordered the partially constructed second Death Star to move from its orbit to destroy the rebel base on D'rinba IV. The Rebel Alliance caught word of this and infiltrated the battlestation with a team of operatives. Each operative was armed with explosives and attempted to place their explosives in specific locations in a specific sequence in order to disable the station.
While traversing the station, the Rebels must avoid stormtroopers who are pursuing them. During the course of the mission, one of the Rebels came under the control of Darth Vader, who forced the individual to attack the other Rebels.
If the characters were unsuccessful in their mission, Darth Vader had the Death Star destroy D'rinba IV .
Appearances
Edit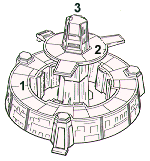 Characters
Edit
Locations
Edit
Vehicles/vessels
Edit
Behind the scenes
Edit
1 60-Minute VHS videotape
1 Game Board
13 Star Wars Figures
36 Cardboard Explosives
6 Force Level Indicators
2 Combat Disks
1 Death Star Reactor Core
80 Cards
Die and Instructions
The Vader footage
Edit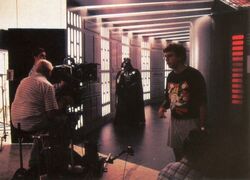 The live-action video on the VHS tape was filmed in 1996. For the new scenes, Hasbro brought back David Prowse to play Vader and James Earl Jones to do the voice of Vader. Some of the crew from A New Hope returned as well to shoot the scenes, including cinematographer Gil Taylor. The scenes would play on an hour-long tape, during which the players would be playing the board game, trying to reach their goal before the tape ends. At various points during the tape, Vader would appear warning in a way the players of what he was about to do. In the video, he wants to turn the Death Star II away from the forest moon of Endor to attempt to destroy another planet.
This game was referenced in The Dark Forces Saga by Abel G. Peña. This canonized the player characters as Corwin Shelvay, Kyle Katarn, Shira Brie and Erling Tredway.[1]
Notes and references
Edit
External links
Edit