Prelude to Rebellion, Part 2 is the second issue in the Star Wars: Republic series of comics. It was published on January 27, 1999 by Dark Horse Comics.
Publisher's summary
Edit
Ki-Adi-Mundi, Jedi Knight of the planet Cerea, has been charged with murder, and only the high technology of the Republic can exonerate him. But this isn't the most brutal irony: Ki's own teenage daughter is an accessory to the murder! Sinister forces are gathering around Cerea, but what could they possibly want with a remote, low-tech farm world?
Plot summary
Edit
After Republic technology ironically exonerates Ki-Adi-Mundi, the man fighting its import, he is sent to arrest the true killer. The criminal is his young daughter's boyfriend, Maj-Odo-Nomor, who has inducted her into a youth swoop gang, the "Techrats". Hiding out in the outsider citadel, the children have struck up an unlikely alliance with Chevin smuggler Ephant Mon. Only after a scuffle in the citadel leaves an old friend dead, does the truth finally come to light.
Appearances
Edit
Characters
Creatures
Locations
Organizations and titles
Sentient species
Vehicles and vessels
Weapons and technology
Miscellanea
Collections
Edit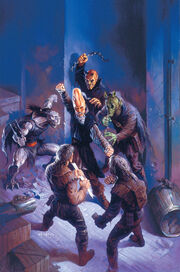 Ad blocker interference detected!
Wikia is a free-to-use site that makes money from advertising. We have a modified experience for viewers using ad blockers

Wikia is not accessible if you've made further modifications. Remove the custom ad blocker rule(s) and the page will load as expected.