The Hunt for Aurra Sing, Part 4 is the thirty-first issue in the Star Wars: Republic series of comics. It was published on June 27, 2001 by Dark Horse Comics.
Publisher's summary
Edit
On a dangerous jungle planet, the Dark Woman is shot and wounded while Aurra Sing seeks to kill her next mark—the corrupt senator, Tikkes. The three Jedi who stand in her way, Adi Gallia, Ki-Adi-Mundi, and A'Sharad Hett, attempt to defend the remnants of the senator's suspicious Quarren expedition, rescue the Dark Woman, and bring Aurra Sing to justice before she carries out another assassination! Sing is pleased with this chance to add to her lightsaber collection while completing another deadly job! When confronted by Sing, will A'Sharad Hett succumb to his darkest desires and ultimately seek vengeance for the murder of his father? Will three Jedi be enough to take down this heartless warrior? "The Hunt for Aurra Sing" concludes with this exciting finale!
Plot summary
Edit
As Aurra Sing stares down the Jedi sent to capture her, she is suddenly sent crashing by a huge boulder flung by Master Adi Gallia. Master Gallia goes in search of Sing, while Ki-Adi-Mundi searches for their fallen comrade, the Dark Woman. Meanwhile, Padawan A'Sharad Hett is left behind to guard the Quarren Senator. Adi Gallia realizes, only too late, who Sing's true quarry is, Senator Tikkes himself. Back at the ship, Sing attacks the small Quarren detachment, defended by the young Hett. Hett successfully repulses and incapacitates the Jedi hunter, but in doing so, gives into his hate. Ashamed, A'Sharad asks Ki to return him to the deserts of Tatooine. However, the Dark Woman asks to take him under her own teachings, convinced she can quell the darkness in his heart. Forced to beat a hasty retreat, the Jedi find that Aurra Sing has somehow escaped.
Other editions
Edit
This item was collected in a trade paperback.
In 2007, Hasbro released a reprint of this comic with two action figures, Dark Woman and A'Sharad Hett. The comic has an altered cover and Hasbro's set of two figures and a comic at a cost of $10-$13, compared to the $3 cover price for the comic book upon its initial printing.
Appearances
Edit
Characters
Creatures
Locations
Organizations and titles
Sentient species
Vehicles and vessels
Weapons and technology
Collections
Edit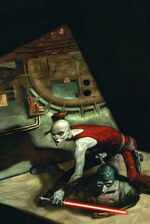 Ad blocker interference detected!
Wikia is a free-to-use site that makes money from advertising. We have a modified experience for viewers using ad blockers

Wikia is not accessible if you've made further modifications. Remove the custom ad blocker rule(s) and the page will load as expected.