Rite of Passage, Part 1 is the forty-second issue in the Star Wars: Republic series of comics. It was published on May 15, 2002 by Dark Horse Comics.
Publisher's summary
Edit
A crisis within the government of the planet Ryloth necessitates a Jedi mediator. Master Tholme is dispatched along with the Twi'lek Jedi, Aayla Secura for a visit to the planet of her birth. While Tholme negotiates with those in the seats of power, Aayla goes undercover as a slave -- getting a taste of what her life might have been like had she stayed on Ryloth, and discovers a conspiracy that could topple the government and sever Ryloth's ties to the Republic! Aayla is on the cusp of graduating from Padawan learner to a full-fledged Jedi Knight, but stopping the evil plot may be a test beyond her abilities!
Plot summary
Edit
Appearances
Edit
Characters
Creatures
Wampa (Appears in flashback(s))
Droid models
Events
Locations
Organizations and titles
Sentient species
Vehicles and vessels
Weapons and technology
Miscellanea
Collections
Edit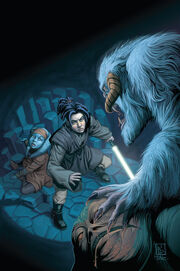 Notes and references
Edit
Ad blocker interference detected!
Wikia is a free-to-use site that makes money from advertising. We have a modified experience for viewers using ad blockers

Wikia is not accessible if you've made further modifications. Remove the custom ad blocker rule(s) and the page will load as expected.