Rite of Passage, Part 3 is the forty-fourth issue in the Star Wars: Republic series of comics. It was published on August 7, 2002 by Dark Horse Comics.
Publisher's summary
Edit
Jedi Master Tholme has been captured by the dreaded Morgukai assassins, and the ship carrying his would-be rescuers -- Jedi Quinlan Vos and Aayla Secura -- has been shot down in the lifeless deserts of the planet Kintan. The brave Jedi take everything the Endless Wastes have to throw at them, from searing heat to flesh-scouring sandstorms, but their real challenge comes when they must face the Morgukai...
Plot summary
Edit
Appearances
Edit
Characters
Droid models
Events
Locations
Kintan (sun) (Indirect mention only)
Organizations and titles
Sentient species
Vehicles and vessels
Weapons and technology
Miscellanea
Collections
Edit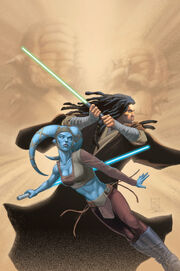 Cite error: <ref> tags exist, but no <references/> tag was found
Ad blocker interference detected!
Wikia is a free-to-use site that makes money from advertising. We have a modified experience for viewers using ad blockers

Wikia is not accessible if you've made further modifications. Remove the custom ad blocker rule(s) and the page will load as expected.