Star Wars Adventures is an ongoing anthology comic book series set in the Star Wars canon. The IDW Publishing series, of which the first issue came out on July 12, 2017 on StarWars.com and will be released physically as a part of SDCC promotion, while the series will officially start on September 6, features stories from the entirety of Star Wars and is intended for all ages.
Development
Edit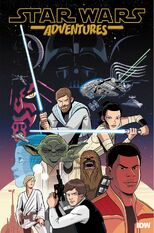 The series was announced on April 14, 2017 at Celebration Orlando during the publishing panel as a new IDW Publishing ongoing comic book series aimed at younger audiences that would tell stories from across the saga.[11]
A day later, in an interview with The Star Wars Show, IDW Publishing chief creative officer Chris Ryall talked more about the series. He revealed the fact that the book will have rotating creative teams and that each issue will feature a lead story about popular characters from the films and back-up stories with lesser known or fan-favorite characters, including the ones from the TV series, hosted by Maz Kanata as the narrator. Ryall also said that some of the back-up stories will not be entirely canon.[12]
On June 6, 2017, Ryall conducted an interview with the podcast Comics with Kenobi, where he spoke about the series. He said that a lot of people messaged him soon after the announcement about them wanting to do this their entire life. This allowed Ryall to make a large creative pool, from which he could pull from in the future. It was explained that while Marvel Comics still has the Star Wars comics licence, they don't have any books aimed at beginner readers, that's where Star Wars Adventures would come in.[13]
Then, on June 14, 2017, IDW released their upcoming comics catalogue, which included the release information on the first and second issue of the series, excluding the SDCC Ashcan. Lead stories in both issues would be about Rey's adventures on Jakku prior to Star Wars: The Force Awakens, while issue 2 particularly would star Unkar Plutt. Issue 1's back-up story would be a "comical tale of clone catastrophe."[2]
The character of Maz Kanata as the storyteller of the stories featured in the back-ups of each comic was eventually replaced by the adventurer Emil Graf, a new character created for the series.[6] These stories are titled Tales from Wild Space, after Star Wars: Adventures in Wild Space, a series of novel by Cavan Scott, which feature characters Milo Graf and Lina Graf.[14]
The first volume was originally solicited to be released as a part of the Journey to Star Wars: The Last Jedi.[15] However, that idea was later dropped.[16]
Color code key:
Collected (TPB) issue
Released issue
Future issue
Notes and references
Edit
↑ 2.0 2.1 2.2 2.3 Albert Ching (2017-06-14). Star Wars Adventures: First Storylines, Creative Teams Revealed. CBR. Retrieved on June 14, 2017.
↑ Florian (2017-08-24). IDW: John Jackson Miller schreibt Star Wars Adventures. Jedi-Bibliothek. Retrieved on August 24, 2017.
↑ 5.0 5.1 Chris Arrant (2017-07-18). FINN Out To Save Baby Creature from CAPTAIN PHASMA In STAR WARS ADVENTURES #3. NEWSARAMA. Retrieved on July 20, 2017.
↑ 6.0 6.1  Here are all the new Star Wars books coming out on Force Friday II on StarWars.com (backup link)
↑ 7.0 7.1 Florian (2017-06-09). IDW: Neue Details und Cover zu Star Wars Adventures. Jedi-Bibliothek. Retrieved on June 9, 2017.
↑ Meagan Navarro (2017-04-15). Lucasfilm & IDW Reveal Star Wars Adventures Comic Series Art. Screenrant. Retrieved on April 15, 2017.
↑ 10.0 10.1  Exclusive: Get a First Look at IDW's SDCC Star Wars Adventures 'Ashcan' Comic on StarWars.com (backup link)
↑ Meagan Navarro (2017-04-14). IDW Is Publishing Its Own All-Ages Star Wars Comic. James Whitbrook. Retrieved on April 15, 2017.
↑ Star Wars Celebration Orlando 2017 Live Stream – Day 3 I The Star Wars Show LIVE! - 2h14m20s on the official Star Wars YouTube Channel
↑ Meagan Navarro (2017-06-06). Comics With Kenobi #31. Coffee With Kenobi. Retrieved on June 14, 2017.
↑ Florian (2017-08-31). Star Wars Adventures und die Abenteuer im Wilden Raum. Jedi-Bibliothek. Retrieved on August 31, 2017.
↑ Disney Licensed Publishing and IDW Combine Forces For New All-Ages Star Wars Comics. IDW Publishing (2017-04-14). Retrieved on April 15, 2017.
↑ Star Wars Adventures Vol. 1: Heroes of the Galaxy on Penguin Random House's official website (backup link)
↑ Brian Salvatore (2017-08-22). Exclusive Reveal: Star Wars Adventure #4 Cover and Solicit. Multiversity Comics. Retrieved on August 22, 2017.
↑ Rich Johnston (2017-09-19). IDW December 2017 Solicits Put A Love And Rocket Up Your Assassinistas. Bleeding cool. Retrieved on September 19, 2017.
↑ Florian (2017-10-18). IDW: Die neuen Star Wars-Comics im Januar 2018. Jedi-Bibliothek. Retrieved on October 18, 2017.
External links
Edit
Ad blocker interference detected!
Wikia is a free-to-use site that makes money from advertising. We have a modified experience for viewers using ad blockers

Wikia is not accessible if you've made further modifications. Remove the custom ad blocker rule(s) and the page will load as expected.