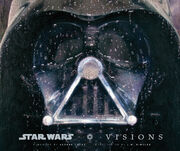 "Star Wars Art has come to fruition exactly as George [Lucas] conceived it. Aside from their archival value, the books are unique in publishing history. They represent a writer, filmmaker, and creator's personal retrospective on his own contribution to cinema, popular culture, and modern mythmaking, as seen through the art of those he's inspired."
―Abrams Books editor Eric Klopfer, Star Wars Insider 153
Star Wars Art is a series of Star Wars art books published by Abrams Books. The series includes Star Wars Art: Visions, Star Wars Art: Comics, Star Wars Art: Illustration, Star Wars Art: Concept, Star Wars Art: Posters,Star Wars Art: A Poster Collection, and Star Wars Art: Ralph McQuarrie. Each book was compiled with the direct input of Star Wars creator George Lucas as image curator.[1]
Bibliography
Edit
Notes and references
Edit
Ad blocker interference detected!
Wikia is a free-to-use site that makes money from advertising. We have a modified experience for viewers using ad blockers

Wikia is not accessible if you've made further modifications. Remove the custom ad blocker rule(s) and the page will load as expected.