Star Wars Comic UK was a magazine published monthly by Titan Magazines. It contained mostly reprints of comics published by Dark Horse, until volume 6 and 7. It was titled Star Wars: The Clone Wars since the beginning of volume 5 on December 2009 because of the release and success of the Star Wars: The Clone Wars television series. It changed its title for the last time, to Star Wars Comic, at the beginning of volume 7 in January 2014 when its stories mostly focused on the characters from the original trilogy (it existed in alternation with Clone Wars stories until issue 8). The magazine ended in December 2014 when the publishers lost their license to publish Star Wars material in the UK.
A new Star Wars UK magazine titled Star Wars Rebels Magazine has been published by Egmont UK Ltd since January 2015.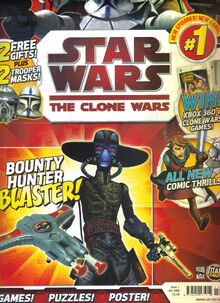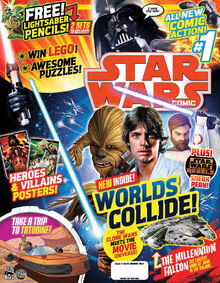 Bibliography
Edit
Ad blocker interference detected!
Wikia is a free-to-use site that makes money from advertising. We have a modified experience for viewers using ad blockers

Wikia is not accessible if you've made further modifications. Remove the custom ad blocker rule(s) and the page will load as expected.