Star Wars Droids: Rebellion is a graphic novel collecting the first 4 issues in the second Star Wars Droids comic series.
Publisher's summary
Edit
Olag Greck is a con man and arch criminal, and he's hiding out exactly where you might expect: among his own wretched kind on the smuggler moon Nar Shaddaa. But knowing where he is and actually arresting him are two completely different matters, as the newly deputized Artoo-Detoo and See-Threepio discover!
Appearances
Edit
Characters
Droid models
Events
Locations
Organizations and titles
Sentient species
Vehicles and vessels
Miscellanea
Collected issues
Edit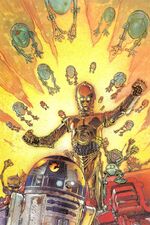 Notes and references
Edit
Ad blocker interference detected!
Wikia is a free-to-use site that makes money from advertising. We have a modified experience for viewers using ad blockers

Wikia is not accessible if you've made further modifications. Remove the custom ad blocker rule(s) and the page will load as expected.