Star Wars Droids: Season of Revolt 1 is the first issue of Star Wars Droids: Season of Revolt, a Dark Horse comic book series starring R2-D2 and C-3PO. Season of Revolt 1 is the fifth issue in Volume II of Dark Horse's Star Wars: Droids series which was published on September 26, 1995.
Publisher's summary
Edit
Some believe heroism is a result of genetics; others, that it is a result of teaching. But for Artoo, it's the result of a computer virus! Following their fateful encounter with Boonda the Hutt, Threepio and Artoo are acquired by an Ithorian on Nar Shaddaa. When the Ithorian's herd ship is attacked by alien kidnappers, Artoo is compelled to protect an apparently helpless Human. Artoo's selfless act is soon revealed to exceed standard droid programming when Threepio discovers that his small friend has been overtaken by the Caretaker virus!
Plot summary
Edit
Appearances
Edit
Characters
Creatures
Droid models
Organizations and titles
Sentient species
Vehicles and vessels
Weapons and technology
Miscellanea
Collections
Edit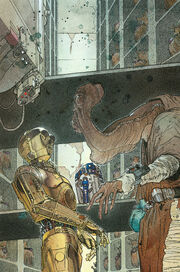 Notes and references
Edit
External links
Edit
Ad blocker interference detected!
Wikia is a free-to-use site that makes money from advertising. We have a modified experience for viewers using ad blockers

Wikia is not accessible if you've made further modifications. Remove the custom ad blocker rule(s) and the page will load as expected.