Star Wars Episode VII
Talk

131
112,947pages on
this wiki
Star Wars Episode VII
Attribution information
Director(s)
Producer(s)
Writer(s)
Starring
Music by
Production information
Distributor
Released
Budget

At least $200 million (estimated)[11]

Language

English[2]

Chronological information
Timeline

About 30 years after Star Wars Episode VI: Return of the Jedi[12]

Preceded by

Episode VI: Return of the Jedi[12]

Followed by
"It's an original story."
―A Lucasfilm source, speaking about the plot for Star Wars Episode VII
Star Wars Episode VII is the planned seventh live-action theatrical installment in the Star Wars film franchise. It will be directed by J.J. Abrams, with a screenplay by Michael Arndt, Lawrence Kasdan and Abrams. The film will not be an adaptation of any previous Expanded Universe stories, but will instead have an original story. Following The Walt Disney Company's October 30, 2012 acquisition of Lucasfilm Ltd. from George Lucas, Disney announced that Star Wars Episode VII is scheduled to be released on December 18, 2015, to be followed by Episodes VIII and IX. George Lucas will remain involved as a creative consultant on the new Star Wars feature films. Star Wars Episode VII will take place in a new continuity that discards the original Expanded Universe and includes only the original Star Wars films, the Star Wars: The Clone Wars television series, and future material released after April 25, 2014. On April 29, the movie's primary cast was announced, with returning Star Wars veterans from the original trilogy, including Mark Hamill, Harrison Ford, and Carrie Fisher. Production on the film began at Pinewood Studios on May 16.
Development
Conception
"I've consistently been impressed with J.J. as a filmmaker and storyteller. He's an ideal choice to direct the new Star Wars film and the legacy couldn't be in better hands."
―George Lucas, on J.J. Abrams
On October 30, 2012, The Walt Disney Company announced that it had purchased Lucasfilm Ltd., the production company behind the creation of the Star Wars franchise, from its owner, Star Wars creator George Lucas, for $4.05 billion.[2] The acquisition came in the wake of Lucas's announced retirement on May 31,[13] and the subsequent June 1 announcement that veteran film producer Kathleen Kennedy was succeeding Lucas as Lucasfilm's Co-Chair.[14] As part of the merger, Disney revealed that it planned to release a new sequel trilogy of films, beginning in 2015, that would include the long-awaited Star Wars Episodes VII, VIII, and IX. Lucas will remain involved as a creative consultant, with Kennedy serving as executive producer.[2]
Star Wars Episode VII has already been in development for several months as of the Disney–Lucasfilm merger. Lucas has written the story treatments for each of the three upcoming films. Kennedy said shortly after the announcement that the development team was in the process of sitting down with writers to discuss story ideas.[3] According to a Lucasfilm source, the basis for Star Wars Episode VII will be an original story, rather than taking inspiration from previous Expanded Universe content, such as author Timothy Zahn's The Thrawn Trilogy of novels, which chronologically follows the events of Star Wars Episode VI: Return of the Jedi in the Star Wars canon.[15] This was later confirmed on April 25, 2014, when Lucasfilm announced the creation of a new continuity that includes only the original films, the Star Wars: The Clone Wars TV series, and all future content beginning with the forthcoming Star Wars Rebels TV series and the novel A New Dawn.[16]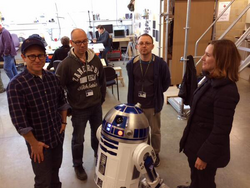 Lucasfilm confirmed on November 9 that pre-production had began on Star Wars Episode VII, and that screenwriter Michael Arndt will write the script for the film.[4] News outlets first reported Arndt's involvement on November 8, announcing that, according to insiders, Arndt has already turned in a forty-to-fifty-page story treatment[17][18] that will reportedly bring the Skywalker family saga to a close in a new trilogy.[19] Reports first announced on January 24, 2013 that J.J. Abrams, known for his work on the television series Lost and the most recent entries in the Star Trek film series, will direct Star Wars Episode VII.[20] StarWars.com confirmed the reports the following day.[1]
According to reports, Lawrence Kasdan and Simon Kinberg will co-produce all three films of the upcoming sequel trilogy. Kasdan and Kinberg will also reportedly share writing responsibilities for both Star Wars Episodes VIII and IX, although the exact division of roles has yet to be determined. Kasdan originally wrote the screenplays for both Star Wars Episode V: The Empire Strikes Back and Star Wars Episode VI: Return of the Jedi.[21] StarWars.com confirmed Kasdan's and Kinberg's involvement as project consultants for Star Wars Episode VII on January 25.[1]
During a concert with the Young Musician's Foundation Debut Orchestra on February 9, composer John Williams stated that he was hoping to get the chance to write the musical scores for the entire new trilogy.[22] Abrams made further statements on this at a Star Trek Into Darkness conference on April 29, stating, "Again, for Star Wars, it's very early days, but I believe that, going forward, John Williams will be doing that film because he was there long before I was."[23] On July 27, 2013, a video of Williams confirming he would score the new film was screened at Star Wars Celebration Europe II.[9]
Mark Hamill commented about the sequels in late February 2013 stating that "they are talking to us" and he is scheduled to meet with writer Michael Arndt and Kathleen Kennedy. Hamill stated that so far nobody has signed a contract though there appears to be interest in the entire cast. Hamill went on to say that George Lucas would like to get Peter Mayhew and Anthony Daniels back for the new films as well. Mark Hamill feels that he will return to be "an Obi-Wan type role." [24]
In March 2013, Fisher confirmed she will return as Princess Leia.[25][26] A day later Lucas confirmed that Hamill, Ford and Fisher were in the final stages of negotiations and that all three were in discussions to return prior to the Disney sale. Lucas then said, "Maybe I'm not supposed to say that. I think they want to announce that with some big whoop-de-do, but we were negotiating with them. I won't say whether the negotiations were successful or not".[27]
In May 2013, it was revealed that production of Episode VII would take place in the United Kingdom. All of the six other movies of the Star Wars franchise had been partly produced in the U.K., notably in the Elstree, Shepperton, Leavesden, Ealing and Pinewood Studios.[28] Michael Kaplan, who designed the costumes for Abrams' Star Trek films has also signed on to costume Episode VII.[29] Daniel Mindel, Abrams's director of photography, will also return to collaborate with the director, meaning the series will return to shooting on 35mm film.[30] The film is also being shot with IMAX cameras.[31]
On October 24, 2013, Kasdan and Abrams were revealed to have been rewriting Arndt's script.[5] On November 7, 2013, Lucasfilm announced that the film would be released on December 18, 2015.[10] On November 9, 2013, it was announced that the Fox fanfare will not be in the opening of Star Wars Episode VII.[32] On November 19, 2013, StarWars.com confirmed that R2-D2 will appear in the film. The droid model has been provided and will be overseen by members of the R2 Builders Club.[33]
Disney Studios chairman Alan Horn revealed on December 13, 2013, that the estimated budget for Star Wars Episode VII will be at least $200 million. At a Television Critics Association press tour on January 19, 2014, Abrams announced that the script for Episode VII had been finished and that the movie was going "full steam ahead" and in "deep pre-production." He also confirmed rumors of him talking with Breaking Bad actor Jesse Plemons.[34] The following day, on January 20, 2014, Carrie Fisher gave an interview to TV Guide and mentioned that she, Harrison Ford, and Mark Hamill would all be reporting to work in March or April.[35] This was verified by Lucasfilm on April 29, 2014.[6]
During an interview promoting the 2014 remake of RoboCop, actor Gary Oldman confirmed with Sky Movies that he was indeed approached for a role in the upcoming film.[36] Other actors such as Ewan McGregor[37] and Billy Dee Williams have expressed interest in returning, though no official statement has been released regarding their involvement.[38]
Production
"I've learned to be very careful about Star Wars. If I say, 'There will be no skateboards in Star Wars'... that gets headlines."
―Alan Horn, Disney Chairman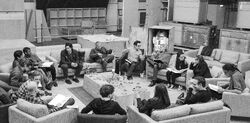 On March 17, 2014, StarWars.com announced that Episode VII would begin principal photography at Pinewood Studios in May 2014, and would be set approximately thirty years after the events of Star Wars Episode VI: Return of the Jedi. They also confirmed that the film will star a trio of young leading actors alongside "some very familiar faces."[12] On April 5, 2014, it was revealed that filming on Star Wars Episode VII had already begun,[39][40] with second unit work taking place in Iceland and Abu Dhabi.[41][42][43]
On April 7, 2014, reports surfaced claiming that Peter Mayhew would reprise the role of Chewbacca in Star Wars Episode VII.[44] On April 25, Lucasfilm announced their plans for a new continuity that excluded the existing Expanded Universe, and confirmed that Episode VII and its sequels will not adhere to any existing continuity.[16] This was followed on April 29 by the official release of the cast list for the movie. Mark Hamill, Carrie Fisher, Harrison Ford, Kenny Baker, Peter Mayhew, and Anthony Daniels will return to reprise their roles as the main characters of the original trilogy, and they will be joined by a number of new actors in leading roles: John Boyega, Daisy Ridley, Adam Driver, Oscar Isaac, Andy Serkis, Domhnall Gleeson, and Max von Sydow.[6] Denis Lawson was asked to reprise his role as Wedge Antilles from the original trilogy, but declined, stating that it would have "bored" him.[45]
On May 16, 2014, production officially began on the film at Pinewood Studios.[46][47]
On June 11, the 71-year old Harrison Ford broke his left leg when a hydraulic door at Pinewood Studios fell down and hit him, and was airlifted to John Radcliffe Hospital in Oxford.[48] His recovery will force him to drop out of filming for eight weeks.[49]
On June 28, actor Andy Serkis confirmed that The Imaginarium Studios will be involved with performance capture on the film, as well as all future Star Wars projects. Serkis also confirmed that the character he plays in the film will utilize performance capture.[50]
On July 6, Lucasfilm confirmed that actors Crystal Clarke and Pip Andersen were cast in the film through open casting calls in the United Kingdom. They also revealed that production will take a two-week hiatus in August to accommodate Harrison Ford's leg injury. Afterwards shooting will resume, and conclude later in the fall.[8]
Abrams, Hamill, and Daisy Ridley spent three days filming at Skellig Michael in County Kerry, Ireland.[51]
Charity
On May 21, Disney, Lucasfilm and Bad Robot announced "Force for Change", a charity campaign "dedicated to finding creative solutions to some of the world's biggest problems"; Initially, the campaign will be focused on contributing to UNICEF. Each person who donates is entered to win a set visit to and appearance in Episode VII.[52] On August 11, Denver, Colorado resident D.C. Barns was announced as the contest's winner, while it was revealed over $5 million had been raised for charity.[53]
In August 2014, several of the film's cast and crew participated in the "Ice Bucket Challenge", an internet phenomenon whereby one pours water onto one's head as a pledge to donate to the ALS association.[54]
Credits
"We are so excited to finally share the cast of Star Wars: Episode VII. It is both thrilling and surreal to watch the beloved original cast and these brilliant new performers come together to bring this world to life, once again. We start shooting in a couple of weeks, and everyone is doing their best to make the fans proud."
―Director J.J. Abrams
Appearances
Characters
Droid models
Sentient species
Vehicles and vessels
Bibliography
Notes and references
↑ 1.00 1.01 1.02 1.03 1.04 1.05 1.06 1.07 1.08 1.09 1.10  Star Wars Is Being Kick-Started with Dynamite J.J. Abrams to Direct Star Wars: Episode VII on StarWars.com (backup link on Archive.org)
↑ 2.0 2.1 2.2 2.3 2.4 2.5 2.6 2.7 DISNEY TO ACQUIRE LUCASFILM LTD.. The Walt Disney Company. thewaltdisneycompany.com (October 30, 2012). Retrieved on October 31, 2012.
↑ 3.0 3.1 3.2  New Video Series: A Discussion About the Future of Star Wars on StarWars.com (backup link on Archive.org)
↑ 4.0 4.1 4.2  Michael Arndt to Write Screenplay for Star Wars: Episode VII on StarWars.com (backup link on Archive.org)
↑ 5.00 5.01 5.02 5.03 5.04 5.05 5.06 5.07 5.08 5.09 5.10 5.11 5.12  Master Filmmaking Team Announced for Star Wars: Episode VII on StarWars.com (backup link on Archive.org)
↑ 6.00 6.01 6.02 6.03 6.04 6.05 6.06 6.07 6.08 6.09 6.10 6.11 6.12 6.13 6.14 6.15 6.16 6.17 6.18 6.19 6.20 6.21 6.22 6.23 6.24 6.25 6.26 6.27 6.28 6.29  Star Wars: Episode VII Cast Announced on StarWars.com (backup link on Archive.org)
↑ 7.0 7.1 7.2 7.3  Star Wars: Episode VII Adds Academy Award Winner Lupita Nyong'o and Game of Thrones' Gwendoline Christie on StarWars.com (backup link on Archive.org)
↑ 8.0 8.1 8.2 8.3 8.4  STAR WARS EPISODE VII PRODUCTION UPDATE on StarWars.com (backup link on Archive.org)
↑ 9.0 9.1 9.2  Star Wars Celebration Europe 2013: John Williams to Score Star Wars: Episode VII on StarWars.com (backup link on Archive.org)
↑ 10.0 10.1  Star Wars: Episode VII to Open December 18, 2015 on StarWars.com (backup link on Archive.org)
↑ Armitage, Hugh (2013-12-16, 3:09 am EST). Star Wars Episode 7 script still not finalized - Movies News - Digital Spy. Digital Spy. Hearst Magazines UK. Retrieved on December 19, 2013.
↑ 12.0 12.1 12.2  Star Wars: Episode VII Set to Roll Cameras May 2014 on StarWars.com (backup link on Archive.org)
↑ Farokhmanesh, Megan (2012-05-31, 12:00 pm). George Lucas Announces Retirement :: Movies :: News :: Paste. Paste Magazine. pastemagazine.com. Retrieved on October 31, 2012.
↑  Kathleen Kennedy to become Co-Chair of Lucasfilm Ltd. on StarWars.com (backup link on Archive.org)
↑ Gornstein, Leslie (2012-10-30, 10:00 pm). Star Wars 7 Plot Will Be An Original Story Says Lucasfilm Source. E! Online. eonline.com. Retrieved on October 31, 2012.
↑ 16.0 16.1  The Legendary Star Wars Expanded Universe Turns a New Page on StarWars.com (backup link on Archive.org)
↑ Brodesser-Akner, Claude (2012-11-08, 3:44pm). Update: Star Wars: Episode VII Writer Confirmed -- Vulture. Vulture - Entertainment News. vulture.com. Retrieved on November 10, 2012.
↑ Kit, Borys (2012-11-08, 1:22pm PST). New 'Star Wars' Movie Has Treatment by 'Toy Story 3' Writer - Hollywood Reporter. The Hollywood Reporter. hollywoodreporter.com. Retrieved on November 10, 2012.
↑ Kit, Borys (2012-11-09, 5:20pm PST). New Star Wars Movie: Michael Arndt to Write 'Episode VII.' Lucasfilm Confirms - Hollywood Reporter. The Hollywood Reporter. hollywoodreporter.com. Retrieved on November 10, 2012.
↑ Wigler, Josh (2013-01-24, 5:03pm EST). J.J. Abrams To Direct 'Star Wars: Episode VII' - Music, Celebrity, Artist News. MTV.com. MTV. Retrieved on January 24, 2013.
↑ Kit, Borys (November 20, 2012, 4:41pm PST). 'Star Wars': Lawrence Kasdan, Simon Kinberg to Write, Produce - Hollywood Reporter. The Hollywood Reporter. Retrieved on November 21, 2012.
↑ Williams Says He 'Hopes' to Work on New Star Wars Trilogy. JWFan (February 11, 2013). Retrieved on February 21, 2013.
↑ Philiana Ng (April 30, 2013). J.J. Abrams Says John Williams Likely to Score 'Star Wars: Episode VII'. The Hollywood Reporter. Retrieved on April 30, 2013.
↑ Rottenberg, Josh (February 21, 2013). Mark Hamill on 'Star Wars: Episode VII': 'They're talking to us'. Entertainment Weekly. Retrieved on March 8, 2013.
↑ Q&A with Carrie Fisher (Accessed March 6, 2013)
↑ Carrie Fisher Confirms She'll Return as Princess Leia in STAR WARS: EPISODE VII (Accessed March 6, 2013)
↑ Franich, Darren (March 7, 2013). George Lucas says that Carrie Fisher, Mark Hamill, and Harrison Ford are definitely in the next 'Star Wars' movie, maybe. Entertainment Weekly. Retrieved on March 14, 2013.
↑  Star Wars Star Wars Feature Film Production Returns to the U.K. on StarWars.com (backup link on Archive.org)
↑ Rees, Alex (May 17, 2013). "Star Trek" Costume Designer Michael Kaplan On Dressing Starfleet And Keeping Trekkies Happy. Buzzfeed. Retrieved on May 19, 2013.
↑ BBFC admin (August 22, 2013). Star Wars Episode 7 to be Shot on Film by Dan Mindel. Boba Fett Fan Club. Retrieved on August 23, 2013.
↑ @bad_robot (Bad Robot Productions) on Twitter. "#bestformatever."
↑ Molloy, Tim (November 9, 2013). 'Star Wars VII' Will Have Major Change to Opening: No Fox Fanfare. The Wrap. Retrieved on November 10, 2013.
↑ 33.0 33.1 33.2 33.3  "R2-D2 Is in Star Wars: Episode VII, and He's Fan-Made," The Official Star Wars Blog
↑ Cornet, Roth (January 19, 2014). J.J. Abrams: Star Wars Episode VII Script Done; They Did Meet with Jesse Plemons. IGN. Retrieved on January 19, 2014.
↑ Keck, William (January 20, 2014). Keck's Exclusives First Look: Carrie Fisher Visits Legit and Big Bang. TV Guide. Retrieved on January 21, 2014.
↑ Gary Oldman potentially up for role in Star Wars. Sky Movies (7 February 2014). Retrieved on February 9, 2014.
↑ Exclusive: Ewan McGregor on Star Wars Episode 7: I'll be Obi-Wan if they need me. Digital Spy (December 3, 2012). Retrieved on December 3, 2012.
↑ Collura, Scott (November 19, 2012). Billy Dee Williams' Lando Calrissian Back for Star Wars: Episode VII?. IGN. Retrieved on November 19, 2012.
↑ Appelo, Tim (April 5, 2014). Disney Chief Reveals 'Star Wars: VII' Casting Almost Complete, Says Film Is Already Shooting (Video). The Hollywood Reporter. Retrieved on April 6, 2014.
↑ Ray, Amber (April 6, 2014). 'Star Wars: Episode VII' has already begun filming, says Disney's Alan Horn -- VIDEO. Entertainment Weekly. Retrieved on April 6, 2014.
↑ Alan Horn Confirms Episode VII Filming In Abu Dhabi. TheForce.net (April 22, 2014). Retrieved on April 22, 2014.
↑ Everything I Can Tell You About 'Stars Wars': Horn. Bloomberg.com (April 22, 2014). Retrieved on May 1, 2014.
↑ Chewbacca Actor Peter Mayhew Said To Return For Star Wars Episode VII. TheForce.net (April 7, 2014). Retrieved on April 7, 2014.
↑ New Star Wars films 'would have bored me', says Scots actor Denis Lawson. thecourier.co.uk (May 5, 2014). Retrieved on May 9, 2014.
↑  Timeline Photos. Star Wars (May 16, 2014, 3:02 pm UTC). Retrieved on May 16, 2014. "Officially begun, production has."
↑  Timeline Photos. Star Wars (May 16, 2014, 3:29 pm UTC). Retrieved on May 16, 2014. "Day one at Pinewood Studios."
↑ Harrison Ford broke left leg in accident, publicist confirms. BBC News (June 19, 2014). Retrieved on June 19, 2014.
↑ 'Star Wars' Injury to Sideline Harrison Ford for Eight Weeks. The Hollywood Reporter (June 16, 2014). Retrieved on June 16, 2014.
↑ Hickey, Donal (2014-07-31). Star Wars in Kerry: The force is strong with this one.... Irish Examiner. Retrieved on August 1, 2014.
↑ Star Wars: Force For Change Winner Reveal on the official Star Wars YouTube Channel
↑ 'Star Wars: Episode VII' Cast Takes Ice Bucket Challenge. Huffington Post (August 26, 2014). Retrieved on August 27, 2014.
↑  Concept Artists for Past and Future Star Wars Films Coming to Celebration Europe on StarWars.com (backup link on Archive.org)
External links