Star Wars Episode VII
Talk

93
107,695pages on
this wiki
Star Wars Episode VII
Director(s)
Producer(s)
Writer(s)
Music by
Distributor
Released
Language

English[2]

Preceded by
Followed by
"It's an original story."
―A Lucasfilm source, speaking about the plot for Star Wars Episode VII
Star Wars Episode VII is the planned seventh live-action theatrical installment in the Star Wars film franchise. It will be directed by J.J. Abrams, with a screenplay by Michael Arndt, Lawrence Kasdan and Abrams. The film will not be an adaptation of any previous Expanded Universe stories, but will instead have an original story.
Following The Walt Disney Company's October 30, 2012 acquisition of Lucasfilm Ltd. from George Lucas, Disney announced that Star Wars Episode VII is scheduled to be released on December 18, 2015, to be followed by Episodes VIII and IX. George Lucas will remain involved as a creative consultant on the new Star Wars feature films.
Development
Disney purchases Lucasfilm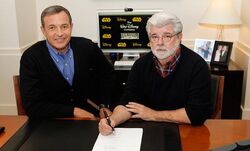 On October 30, 2012, The Walt Disney Company announced that it had purchased Lucasfilm Ltd., the production company behind the creation of the Star Wars franchise, from its owner, Star Wars creator George Lucas, for $4.05 billion.[2] The acquisition came in the wake of Lucas's announced retirement on May 31,[8] and the subsequent June 1 announcement that veteran film producer Kathleen Kennedy was succeeding Lucas as Lucasfilm's Co-Chair.[9] As part of the merger, Disney revealed that it planned to release a new sequel trilogy of films, beginning in 2015, that would include the long-awaited Star Wars Episodes VII, VIII, and IX. Lucas will remain involved as a creative consultant, with Kennedy serving as executive producer.[2]
Star Wars Episode VII has already been in development for several months as of the Disney–Lucasfilm merger. Lucas has written the story treatments for each of the three upcoming films. Kennedy said shortly after the announcement that the development team was in the process of sitting down with writers to discuss story ideas.[3] According to a Lucasfilm source, the basis for Star Wars Episode VII will be an original story, rather than taking inspiration from previous Expanded Universe content, such as author Timothy Zahn's Thrawn Trilogy of novels, which chronologically follows the events of Star Wars Episode VI: Return of the Jedi in the Star Wars canon.[10]
Assembling the team
"I've consistently been impressed with J.J. as a filmmaker and storyteller. He's an ideal choice to direct the new Star Wars film and the legacy couldn't be in better hands."
―George Lucas, on J.J. Abrams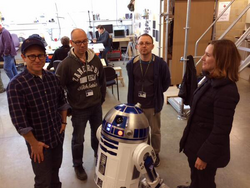 Lucasfilm confirmed on November 9 that pre-production had began on Star Wars Episode VII, and that screenwriter Michael Arndt will write the script for the film.[4] News outlets first reported Arndt's involvement on November 8, announcing that, according to insiders, Arndt has already turned in a forty-to-fifty-page story treatment[11][12] that will reportedly bring the Skywalker family saga to a close in a new trilogy.[13] Reports first announced on January 24, 2013 that J.J. Abrams, known for his work on the television series Lost and the most recent entries in the Star Trek film series, will direct Star Wars Episode VII.[14] StarWars.com confirmed the reports the following day.[1]
According to reports, Lawrence Kasdan and Simon Kinberg will co-produce all three films of the upcoming sequel trilogy. Kasdan and Kinberg will also reportedly share writing responsibilities for both Star Wars Episodes VIII and IX, although the exact division of roles has yet to be determined. Kasdan originally wrote the screenplays for both Star Wars Episode V: The Empire Strikes Back and Star Wars Episode VI: Return of the Jedi.[15] StarWars.com confirmed Kasdan's and Kinberg's involvement as project consultants for Star Wars Episode VII on January 25.[1]
Star Wars actors Mark Hamill, Harrison Ford, Carrie Fisher, Ewan McGregor, Billy Dee Williams and Samuel L. Jackson have all been reported to be interested in returning for the new films, though most actors have yet to be confirmed by Lucasfilm sources.[16][17][18][19]
During a concert with the Young Musician's Foundation Debut Orchestra on February 9, composer John Williams stated that he was hoping to get the chance to write the musical scores for the entire new trilogy.[20] Abrams made further statements on this at a Star Trek Into Darkness conference on April 29, stating, "Again, for Star Wars, it's very early days, but I believe that, going forward, John Williams will be doing that film because he was there long before I was."[21] On July 27, 2013, a video of Williams confirming he would score the new film was screened at Star Wars Celebration Europe II.[6]
Mark Hamill commented about the sequels in late February 2013 stating that "they are talking to us" and he is scheduled to meet with writer Michael Arndt and Kathleen Kennedy. Hamill stated that so far nobody has signed a contract though there appears to be interest in the entire cast. Hamill went on to say that George Lucas would like to get Peter Mayhew and Anthony Daniels back for the new films as well. Mark Hamill feels that he will return to be "an Obi-Wan type role." [22]
In March 2013, Fisher confirmed she will return as Princess Leia.[23][24] A day later Lucas confirmed that Hamill, Ford and Fisher were in the final stages of negotiations and that all three were in discussions to return prior to the Disney sale. Lucas then said, "Maybe I'm not supposed to say that. I think they want to announce that with some big whoop-de-do, but we were negotiating with them. I won't say whether the negotiations were successful or not".[25]
In May 2013, it was revealed that production of Episode VII would take place in the United Kingdom. All of the six other movies of the Star Wars franchise had been partly produced in the U.K., notably in the Elstree, Shepperton, Leavesden, Ealing and Pinewood studios.[26]
Michael Kaplan, who designed the costumes for Abrams' Star Trek films has also signed on to costume Episode VII.[27] Daniel Mindel, Abrams's director of photography, will also return to collaborate with the director, meaning the series will return to shooting on 35mm film.[28]
On October 24, 2013, Kasdan and Abrams were revealed to have been rewriting Arndt's script.[5] On November 7, 2013, Lucasfilm announced that the film would be released on December 18, 2015.[7] On November 9, 2013, it was announced that the Fox fanfare will not be in the opening of Star Wars Episode VII.[29]
On November 19, 2013, StarWars.com confirmed that R2-D2 will appear in the film. The droid model has been provided and will be overseen by members of the R2 Builders Club.[30]
Appearances
By type
| | | | | |
| --- | --- | --- | --- | --- |
| Characters | Creatures | Droid models | Events | Locations |
| Organizations and titles | Sentient species | Vehicles and vessels | Weapons and technology | Miscellanea |
Bibliography
Notes and references
↑ 1.0 1.1 1.2 1.3 1.4 1.5 1.6 1.7  Star Wars Is Being Kick-Started with Dynamite J.J. Abrams to Direct Star Wars: Episode VII on StarWars.com (backup link on Archive.org)
↑ 2.0 2.1 2.2 2.3 2.4 2.5 2.6 DISNEY TO ACQUIRE LUCASFILM LTD.. The Walt Disney Company. thewaltdisneycompany.com (October 30, 2012). Retrieved on October 31, 2012.
↑ 3.0 3.1  New Video Series: A Discussion About the Future of Star Wars on StarWars.com (backup link on Archive.org)
↑ 4.0 4.1  Michael Arndt to Write Screenplay for Star Wars: Episode VII on StarWars.com (backup link on Archive.org)
↑ 5.0 5.1 5.2  Master Filmmaking Team Announced for Star Wars: Episode VII on StarWars.com (backup link on Archive.org)
↑ 6.0 6.1  Star Wars Celebration Europe 2013: John Williams to Score Star Wars: Episode VII on StarWars.com (backup link on Archive.org)
↑ 7.0 7.1  Star Wars: Episode VII to Open December 18, 2015 on StarWars.com (backup link on Archive.org)
↑ Farokhmanesh, Megan (2012-05-31, 12:00 pm). George Lucas Announces Retirement :: Movies :: News :: Paste. Paste Magazine. pastemagazine.com. Retrieved on October 31, 2012.
↑  Kathleen Kennedy to become Co-Chair of Lucasfilm Ltd. on StarWars.com (backup link on Archive.org)
↑ Gornstein, Leslie (2012-10-30, 10:00 pm). Star Wars 7 Plot Will Be An Original Story Says Lucasfilm Source. E! Online. eonline.com. Retrieved on October 31, 2012.
↑ Brodesser-Akner, Claude (2012-11-08, 3:44pm). Update: Star Wars: Episode VII Writer Confirmed -- Vulture. Vulture - Entertainment News. vulture.com. Retrieved on November 10, 2012.
↑ Kit, Borys (2012-11-08, 1:22pm PST). New 'Star Wars' Movie Has Treatment by 'Toy Story 3' Writer - Hollywood Reporter. The Hollywood Reporter. hollywoodreporter.com. Retrieved on November 10, 2012.
↑ Kit, Borys (2012-11-09, 5:20pm PST). New Star Wars Movie: Michael Arndt to Write 'Episode VII.' Lucasfilm Confirms - Hollywood Reporter. The Hollywood Reporter. hollywoodreporter.com. Retrieved on November 10, 2012.
↑ Wigler, Josh (2013-01-24, 5:03pm EST). J.J. Abrams To Direct 'Star Wars: Episode VII' - Music, Celebrity, Artist News. MTV.com. MTV. Retrieved on January 24, 2013.
↑ Kit, Borys (November 20, 2012, 4:41pm PST). 'Star Wars': Lawrence Kasdan, Simon Kinberg to Write, Produce - Hollywood Reporter. The Hollywood Reporter. Retrieved on November 21, 2012.
↑ Exclusive: Ewan McGregor on Star Wars Episode 7: I'll be Obi-Wan if they need me. Digital Spy (December 3, 2012). Retrieved on December 3, 2012.
↑ Boucher, Geoff (November 6, 2012). 'Star Wars' sequel: Harrison Ford open to idea of Han Solo role. CNN. Retrieved on November 22, 2012.
↑ Collura, Scott (November 19, 2012). Billy Dee Williams' Lando Calrissian Back for Star Wars: Episode VII?. IGN. Retrieved on November 19, 2012.
↑ Sampson, Mike (February 15, 2013). 'Star Wars: Episode 7' - Harrison Ford Confirmed to Return as Han Solo!. Screen Crush. Retrieved on February 15, 2013.
↑ Williams Says He 'Hopes' to Work on New Star Wars Trilogy. JWFan (February 11, 2013). Retrieved on February 21, 2013.
↑ Philiana Ng (April 30, 2013). J.J. Abrams Says John Williams Likely to Score 'Star Wars: Episode VII'. The Hollywood Reporter. Retrieved on April 30, 2013.
↑ Rottenberg, Josh (February 21, 2013). Mark Hamill on 'Star Wars: Episode VII': 'They're talking to us'. Entertainment Weekly. Retrieved on March 8, 2013.
↑ Q&A with Carrie Fisher (Accessed March 6, 2013)
↑ Carrie Fisher Confirms She'll Return as Princess Leia in STAR WARS: EPISODE VII (Accessed March 6, 2013)
↑ Franich, Darren (March 7, 2013). George Lucas says that Carrie Fisher, Mark Hamill, and Harrison Ford are definitely in the next 'Star Wars' movie, maybe. Entertainment Weekly. Retrieved on March 14, 2013.
↑  Star Wars Star Wars Feature Film Production Returns to the U.K. on StarWars.com (backup link on Archive.org)
↑ Rees, Alex (May 17, 2013). "Star Trek" Costume Designer Michael Kaplan On Dressing Starfleet And Keeping Trekkies Happy. Buzzfeed. Retrieved on May 19, 2013.
↑ BBFC admin (August 22, 2013). Star Wars Episode 7 to be Shot on Film by Dan Mindel. Boba Fett Fan Club. Retrieved on August 23, 2013.
↑ Molloy, Tim (November 9, 2013). 'Star Wars VII' Will Have Major Change to Opening: No Fox Fanfare. The Wrap. Retrieved on November 10, 2013.
↑ 30.0 30.1  "R2-D2 Is in Star Wars: Episode VII, and He's Fan-Made," The Official Star Wars Blog
Further reading