Star Wars: Episode VII The Force Awakens
121,486pages on
this wiki
Talk

198
Star Wars: Episode VII
The Force Awakens
Attribution information
Director(s)
Producer(s)
Writer(s)
Starring
Music by
Production information
Distributor
Released
Budget

At least $200 million (estimated)[9]

Language

English[2]

Chronological information
Timeline

About 30 years after Star Wars: Episode VI Return of the Jedi[10]

Preceded by
Followed by
"It's an original story."
―A Lucasfilm source, speaking about the plot for Star Wars: The Force Awakens
Star Wars: Episode VII The Force Awakens, marketed simply as Star Wars: The Force Awakens, is the upcoming first film of the Star Wars sequel trilogy. The film is directed by J.J. Abrams; written by Abrams and Lawrence Kasdan; and produced by Kathleen Kennedy and Bad Robot Productions. The film, which is currently in post-production, will be released on December 18, 2015 in North America and December 17 in Mexico and Latin America.
Despite initially claiming that the Star Wars story ended in Star Wars: Episode VI Return of the Jedi, and spending years refuting speculation that there would be another film, George Lucas began work on the story of Episode VII in 2011 in order to increase the value of Lucasfilm Ltd. before he sold it to The Walt Disney Company, although Disney would later elect to not use Lucas's story. The acquisition was finalized on October 30, 2012, and Disney and Lucasfilm officially announced Episode VII the same day.
The Episode VII story will feature the forces of the First Order, an offshoot of the Galactic Empire, aligned against the Resistance, sprung from the Rebel Alliance.[11] The story material will not be based on Star Wars Legends, formerly known as the Expanded Universe, rather, it will be an original story set after Return of the Jedi. The film stars Mark Hamill, Harrison Ford, Carrie Fisher, Peter Mayhew, Anthony Daniels, and Kenny Baker reprising their original roles. The original actors are joined by a host of new actors including John Boyega, Daisy Ridley, and Adam Driver, amongst many others. The film will be presented in RealD 3D and IMAX 3D where available.[12]
Development
"I keep telling J.J. Abrams this is a $4 billion movie. We need to treat this very special. It's an unbelievable privilege and unbelievable responsibility to take a jewel and treat it in a way that is respectful of its past but brings it into the future."
―Bob Iger
On October 30, 2012, The Walt Disney Company announced that it had purchased Lucasfilm Ltd., the production company behind the creation of the Star Wars franchise, from its owner, Star Wars creator George Lucas, for $4.05 billion.[2] The acquisition came in the wake of Lucas's announced retirement on May 31,[13] and the subsequent June 1 announcement that veteran film producer Kathleen Kennedy was succeeding Lucas as Lucasfilm's Co-Chair.[14] As part of the merger, Disney revealed that it planned to produce a sequel trilogy of films, beginning in 2015. Lucas would remain involved as a creative consultant, with Kennedy serving as executive producer.[2]
Star Wars: Episode VII had already been in development for several months as of the Disney–Lucasfilm merger, and Lucas had written the story treatments for each of the three upcoming films. Kennedy said shortly after the announcement that the development team was in the process of sitting down with writers to discuss story ideas.[15] Lucasfilm confirmed on November 9 that pre-production had begun on Star Wars: Episode VII, and that screenwriter Michael Arndt would write the script for the film.[16] News outlets first reported Arndt's involvement on November 8, announcing that Arndt had already turned in a forty-to-fifty-page story treatment that reportedly brought the Skywalker family saga to a close in a new trilogy.[17][18][19] On January 25, 2013, StarWars.com announced that J.J. Abrams, known for his work on the television series Lost and the most recent entries in the Star Trek film series, would direct the film. with George Lucas remarking "I've consistently been impressed with J.J. as a filmmaker and storyteller. He's an ideal choice to direct the new Star Wars film and the legacy couldn't be in better hands".[1]
Initial reports explained that Lawrence Kasdan (who wrote the screenplays for both Episodes V and VI) and Simon Kinberg would co-produce all three films of the trilogy, and share writing responsibilities for Episodes VIII and IX.[20][1] Kinberg described his role in the process: "I'm like a friend of the court. I consult on the movies. I worked on VII: helped break the story, read scripts, drafts at certain points, and gave my thoughts whatever they were worth."[21] On October 24, 2013, it was announced that Abrams and Kasdan were rewriting Arndt's script.[3] On January 20, 2015, George Lucas revealed in an interview with Cinema Blend that Disney had opted not to use his story treatment for Episode VII and made up their own story instead.[22] He later elaborated in an interview with Stephen Colbert: "The original saga was about the father, the children, and the grandchildren. I don't think that's a secret to anybody—that's in the novels—and the children were in their 20s and everything. But they've taken it in a different direction, and I'm excited—they didn't use my story, so I don't know what they're doing."[23]
Production
"I've learned to be very careful about Star Wars. If I say, 'There will be no skateboards in Star Wars'... that gets headlines."
―Alan Horn, Disney Chairman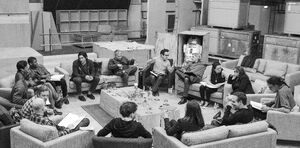 The Force Awakens began preliminary shooting in April 2014,[24][25] with second unit work taking place in Iceland and Abu Dhabi.[26][27][28] On April 25, Lucasfilm announced their plans for a new continuity that excluded the existing Expanded Universe, and confirmed that Episode VII and its sequels would not adhere to any existing continuity.[29] This was followed on April 29 by the official release of the cast list for the movie. Mark Hamill, Carrie Fisher, Harrison Ford, Kenny Baker, Peter Mayhew and Anthony Daniels would return to reprise their roles as the main characters of the original trilogy, and they would be joined by a number of new actors in leading roles: John Boyega, Daisy Ridley, Adam Driver, Oscar Isaac, Andy Serkis, Domhnall Gleeson, and Max von Sydow.[4] Hamill remarked on returning to Star Wars: "Part of the experience of [Star Wars] in my life was coming down from that, putting it behind me. We had a beginning, middle, and an end. And I certainly, in a million years, never expected to return. I thought, even if they do more trilogies, my story is over."[30] Denis Lawson was asked to reprise his role as Wedge Antilles from the original trilogy, but declined, stating that it would have "bored" him.[31]
Principal photography began on May 16, 2014 at the UK's Pinewood Studios.[32][10][33][34] Daniel Mindel—who had previously worked with Abrams as director of photography—returned to collaborate with the director on the film.[35] Reportedly, one sequence was shot with IMAX cameras.[36][37] Although Peter Mayhew was able to reprise the role as Chewbacca,[38] some scenes had to be shot with a stunt double, due to Mayhew's age and physical health.[39] On June 11, the 71-year old Harrison Ford broke his left leg when a hydraulic door at Pinewood Studios fell down and hit him, and was airlifted to John Radcliffe Hospital in Oxford.[40] His recovery forced him to drop out of filming for eight weeks.[41] Abrams also sustained a minor back injury when he tried to help lift the door off of Ford's leg.[42] On June 28, actor Andy Serkis confirmed that The Imaginarium Studios would be involved with performance capture on the film, as well as all future Star Wars projects. Serkis also confirmed that the character he plays in the film would utilize performance capture.[43] On July 6, Lucasfilm confirmed that actors Crystal Clarke and Pip Andersen were cast in the film through open casting calls in the United Kingdom. They also revealed that production would take a two-week hiatus in August to accommodate Harrison Ford's leg injury. Afterwards shooting would resume, and conclude later in the fall.[6] Abrams, Hamill, and Daisy Ridley spent three days filming at Skellig Michael in County Kerry, Ireland.[44]
On November 6, 2014, the official Star Wars Twitter account announced that the film had completed principal photography. The post gave the official title for the film as Star Wars: The Force Awakens, and was accompanied by a title card for the new name that, like the original trilogy, excluded the "Episode" subtitle.[45] Additional shooting is scheduled for Skellig Michael in September 2015.[46]
Design
Michael Kaplan, who had designed the costumes for Abrams' Star Trek films, also signed on to costume Episode VII.[47] Kaplan designed new stormtrooper uniforms for the film, as it was determined that the original costumes would not stand up to modern scrutiny. These new uniforms were inspired by Apple products.[48] The production team built a new C-3PO suit to accommodate Anthony Daniels,[49] while the R2-D2 model was provided and overseen by members of the R2-D2 Builders Club.[50]
Music
During a concert with the Young Musician's Foundation Debut Orchestra on February 9, 2013 composer John Williams stated that he was hoping to get the chance to write the musical scores for the new trilogy.[51] Abrams made further statements on this at a Star Trek Into Darkness conference on April 29, stating, "Again, for Star Wars, it's very early days, but I believe that, going forward, John Williams will be doing that film because he was there long before I was."[52] On July 27, 2013, a video of Williams confirming he would score the new film was screened at Star Wars Celebration Europe II.[7] On March 21, 2015, Lucasfilm revealed that John Williams would conduct the score for The Force Awakens in Los Angeles. The previous live-action film scores were recorded in the United Kingdom with the London Symphony Orchestra.[53] The sessions lasted from summer through fall of 2015.[54]
Release
"We're living in such a different age now. It's like a competition to see who can leak information faster than the next guy. I don't get it. I'm keeping my fingers crossed that they don't get a copy of the script and leak the whole thing on the Internet."
―Mark Hamill
The first teaser trailer—released early due to fan demand[55]—was announced via the Bad Robot Productions Twitter account, with a note from Abrams saying fans will see a "tiny peek at what we're working on."[56] The 88-second teaser premiered in 30 theaters across North America and was released online on November 28, 2014.[57][58] The teaser was shown in theaters around the world beginning in December 2014.[57] Character names were revealed shortly thereafter in online mock collector cards.[59] Earlier that November, JJ Abrams made a cameo on Last Week Tonight with John Oliver, in which he could be seen directing R2-D2 on the set of The Force Awakens. When a fish from Oliver's salmon cannon falls on the script that he's holding, Abrams gets frustrated and quits the film.[60]
A second teaser was released on April 16, 2015.[61] The June 2015 issue of Variety featured a cover story on The Force Awakens, with interviews with cast and crew and images from an Annie Leibovitz photo shoot.[62] The August 2015 issues of Entertainment Weekly and Empire also had the film as their cover stories.[63][64][65] The Force Awakens had a presence at 2015's San Diego Comic-Con and D23 events.[66][67] At the latter, it was revealed that Drew Struzan had returned to create poster art for the film, including a poster exclusive to the event.[68] A third, shorter teaser was released on the Star Wars Instagram on August 27.[69]
Charity
On May 21, 2014, Disney, Lucasfilm and Bad Robot announced "Force for Change", a charity campaign "dedicated to finding creative solutions to some of the world's biggest problems"; Initially, the campaign was focused on contributing to UNICEF. Each person who donated was entered to win a set visit to and appearance in Episode VII.[70] On August 11, Denver, Colorado resident D.C. Barns was announced as the contest's winner.[71] JJ Abrams later released a YouTube video in which he announced that the contest had raised $4.26 million.[72] In August 2014, several of the film's cast and crew participated in the "Ice Bucket Challenge", an internet phenomenon whereby one pours water onto one's head as a pledge to donate to the ALS association.[73] On April 21, 2015, Abrams appeared on Jimmy Kimmel Live!, where he performed the "Twizzler challenge" with Chewbacca, in honor of Autism Awareness Month.[74] In August 2015, Lucasfilm and HP began a two-month program called "Art Awakens", in which people submit art inspired by The Force Awakens, of which a certain number will be chosen for an art exhibit, the proceeds of which will go to "Force for Change".[75]
Merchandising
Following Disney's acquisition of Lucasfilm in 2012, its "imagineers" began developing Star Wars-themed expansions to the various Disney theme parks. However, Bob Iger halted work on these expansions until The Force Awakens and other future Star Wars films had reached a point in their development so that elements from those projects could be included.[55] On August 15, 2015, it was announced that plans were moving forward for a Star Wars-themed section of the Disney parks, which would include content based on The Force Awakens.[76]
Disney's merchandising campaign for the film will begin September 4, 2015—dubbed "Force Friday".[77] Lucasfilm will publish a series of books and comics that will connect Return of the Jedi and The Force Awakens.[78][79] A novelization will be released,[80] as well as a number of other titles directly connected to the film, such as an art book,[81] a character anthology,[82] and Ultimate Sticker Collection: Star Wars: The Force Awakens.[83] Additionally, content from The Force Awakens will be included in the video games Disney Infinity 3.0 and Star Wars Battlefront.[84][85] The company has also partnered with eight major brands: Covergirl & Max Factor, Duracell, FCA US, General Mills, HP, Subway and Verizon.[86] Beginning in August 2015, Target stores held a campaign called "Share the Force", which included TV ads, exclusive in-store merchandise, and an online program in which Star Wars fans could submit images and videos that captured their memories of the franchise.[87] Japan's All Nippon Airways announced that some of its airplanes have been painted to reflect elements from The Force Awakens.[88]
Credits
"We are so excited to finally share the cast of Star Wars: Episode VII. It is both thrilling and surreal to watch the beloved original cast and these brilliant new performers come together to bring this world to life, once again. We start shooting in a couple of weeks, and everyone is doing their best to make the fans proud."
―Director J.J. Abrams
Appearances
Characters
Creatures
Droid models
Events
Locations
Organizations and titles
Sentient species
Vehicles and vessels
Weapons and technology
Miscellanea
Bibliography
 Lucasfilm + Disney = More Star Wars and Great Times for Fans on StarWars.com (backup link on Archive.org)
 New Star Wars Movies Announced as Disney Enters Agreement to Acquire Lucasfilm Ltd. on StarWars.com (backup link on Archive.org)
 The Long, Winding, and Shapeshifting Trail to Episodes VII, VIII & IX on StarWars.com (backup link on Archive.org)
 Michael Arndt to Write Screenplay for Star Wars: Episode VII on StarWars.com (backup link on Archive.org)
 Speculation Season Starts: Let the Sequel Trilogy Rumors Begin! on StarWars.com (backup link on Archive.org)
 Star Wars Is Being Kick-Started with Dynamite J.J. Abrams to Direct Star Wars: Episode VII on StarWars.com (backup link on Archive.org)
 Director J.J. Abrams and His Lifelong Appreciation of Star Wars on StarWars.com (backup link on Archive.org)
 Star Wars Celebration Europe 2013: John Williams to Score Star Wars: Episode VII on StarWars.com (backup link on Archive.org)
 Master Filmmaking Team Announced for Star Wars: Episode VII on StarWars.com (backup link on Archive.org)
 Announcing An Exciting New Array of Star Wars Children's Books on StarWars.com (backup link on Archive.org)
 The Legendary Star Wars Expanded Universe Turns a New Page on StarWars.com (backup link on Archive.org)
Star Wars Day Greeting from J.J. Abrams and Lawrence Kasdan on the official Star Wars YouTube Channel
 Star Wars: Episode VII Adds Academy Award Winner Lupita Nyong'o and Game of Thrones' Gwendoline Christie on StarWars.com (backup link on Archive.org)
 Droid Design: Chopper from Star Wars Rebels Comes to Life on StarWars.com (backup link on Archive.org)
 Star Wars Rebels and More at San Diego Comic-Con 2014 – UPDATED! on StarWars.com (backup link on Archive.org)
 Star Wars: Force for Change - An Update from J.J. Abrams on StarWars.com (backup link on Archive.org)
Star Wars: Force For Change Winner Reveal on the official Star Wars YouTube Channel
 Star Wars Collecting: Taking a First Step Into a Larger World on StarWars.com (backup link on Archive.org)
Star Wars: The Force Awakens Official Teaser on the official Star Wars YouTube Channel
 Star Wars' First Days of Shooting, Part 1: The Original Trilogy on StarWars.com (backup link on Archive.org)
 Star Wars First Days of Shooting, Part 2: The Prequel Trilogy on StarWars.com (backup link on Archive.org)
 Carrie Fisher, Anthony Daniels, and More Coming to Star Wars Celebration 2015 on StarWars.com (backup link on Archive.org)
 J.J. Abrams and Kathleen Kennedy to Kick Off Star Wars Celebration on StarWars.com (backup link on Archive.org)
 "Journey to Star Wars: The Force Awakens" Publishing Program Coming Fall 2015 on StarWars.com (backup link on Archive.org)
 What happened after Endor? Find out in Star Wars: Aftermath on StarWars.com (backup link on Archive.org)
 John Williams to Record Star Wars: The Force Awakens Score in Los Angeles on StarWars.com (backup link on Archive.org)
 Star Wars in the UK: Peel the Force of Star Wars Sticker Albums, Part 1 on StarWars.com (backup link on Archive.org)
 Watch Star Wars Celebration Anaheim Live on StarWars.com, Powered by Verizon! on StarWars.com (backup link on Archive.org)
 Star Wars Celebration Anaheim Merchandise Sneak Peek, Part 4! on StarWars.com (backup link on Archive.org)
Star Wars: The Force Awakens Official Teaser #2 on the official Star Wars YouTube Channel
Star Wars Celebration 2015: The Force Awakens Panel Highlights on the official Star Wars YouTube Channel
 Rogue One Details Revealed at Star Wars Celebration Anaheim on StarWars.com (backup link on Archive.org)
 Star Wars: The Force Awakens Products to Arrive on 'Force Friday,' September 4 on StarWars.com (backup link on Archive.org)
 The 5 Best Ways to Experience Flying an X-wing Right Now on StarWars.com (backup link on Archive.org)
 Galaxy Wire: Star Wars News from Around the Web – May 8, 2015 on StarWars.com (backup link on Archive.org)
 Costume Party: Fan Groups Invade Star Wars Celebration Anaheim! on StarWars.com (backup link on Archive.org)
 Fully Operational Fandom: An Interview with 'Darth Days' Artist George Folz on StarWars.com (backup link on Archive.org)
 Smugglers, Jedi, and Droids Arrive at Madame Tussauds London on StarWars.com (backup link on Archive.org)
 Galaxy Wire: Star Wars News from Around the Web – May 20, 2015 on StarWars.com (backup link on Archive.org)
 Galaxy Wire: Star Wars News from Around the Web – May 26, 2015 on StarWars.com (backup link on Archive.org)
 Star Wars Reads Day: Fully Armed and Operational on October 10 on StarWars.com (backup link on Archive.org)
 Capturing a Galaxy: An Interview with Annie Leibovitz – Exclusive on StarWars.com (backup link on Archive.org)
 Star Wars in the UK: Star Wars Day at LEGOLAND Windsor and Disney Store on StarWars.com (backup link on Archive.org)
 Galaxy Wire: Star Wars News from Around the Web – June 2, 2015 on StarWars.com (backup link on Archive.org)
 Interview: Jason Aaron on Star Wars #6's Big Darth Vader Moment and More on StarWars.com (backup link on Archive.org)
 Star Wars Adaptation Covers Revealed: Presenting the New Original Trilogy on StarWars.com (backup link on Archive.org)
 8 Behind-the-Scenes Facts You Might Not Know About Chewbacca on StarWars.com (backup link on Archive.org)
 Star Wars: The Force Awakens and More Coming to San Diego Comic-Con 2015 on StarWars.com (backup link on Archive.org)
 Galaxy Wire: Star Wars News From Around the Web – June 10, 2015 on StarWars.com (backup link on Archive.org)
 Galaxy Wire: Star Wars News from Around the Web – June 23, 2015 on StarWars.com (backup link on Archive.org)
 Star Wars in the UK: Peel the Force of Star Wars Sticker Albums, Part 2 on StarWars.com (backup link on Archive.org)
 Galaxy Wire: Star Wars News from Around the Web – July 1, 2015 on StarWars.com (backup link on Archive.org)
 Who Will Be the Next 6-Inch Black Series Figure? You Decide! on StarWars.com (backup link on Archive.org)
 Calling All Galactic Treasure Hunters: SDCC Star Wars Collectibles Sneak Peek on StarWars.com (backup link on Archive.org)
 Christopher Miller and Phil Lord to Helm Han Solo Anthology Film on StarWars.com (backup link on Archive.org)
 Announcing the Official Star Wars App: Your Lightspeed Connection to a Galaxy Far, Far Away on StarWars.com (backup link on Archive.org)
 Galaxy Wire: Star Wars News from Around the Web – July 8, 2015 on StarWars.com (backup link on Archive.org)
 Coming Soon to Your Personal Jedi Archives: Journey to Star Wars: The Force Awakens – Sneak Peek! on StarWars.com (backup link on Archive.org)
 Star Wars in the UK: Fantasy Flight Games At UK Games Expo 2015 on StarWars.com (backup link on Archive.org)
 Galaxy Wire: Star Wars News from Around the Web – July 15, 2015 on StarWars.com (backup link on Archive.org)
 Chaos Throttles the Capital in Star Wars: Aftermath – Special Excerpt! on StarWars.com (backup link on Archive.org)
 Secret Cinema Makes Star Wars More Powerful Than You Can Possibly Imagine on StarWars.com (backup link on Archive.org)
 Galaxy Wire: Star Wars News from Around the Web – July 21, 2015 on StarWars.com (backup link on Archive.org)
 Galaxy Wire: Star Wars News from Around the Web – July 28, 2015 on StarWars.com (backup link on Archive.org)
 Galaxy Wire: Star Wars News from Around the Web – August 4, 2015 on StarWars.com (backup link on Archive.org)
 The New Galaxy of Star Wars: Shattered Empire: An Interview with Greg Rucka on StarWars.com (backup link on Archive.org)
 Lucasfilm and HP Celebrate Star Wars: The Force Awakens with "Art Awakens" Program on StarWars.com (backup link on Archive.org)
 Galaxy Wire: Star Wars News from Around the Web – August 11, 2015 on StarWars.com (backup link on Archive.org)
 Entertainment Weekly Previews Star Wars: The Force Awakens on StarWars.com (backup link on Archive.org)
 Fully Operational Fandom: Podcasting Across the Galaxy, Part 4 on StarWars.com (backup link on Archive.org)
 Star Wars Attack of the Clones: The Expanded Visual Dictionary — The Book I Didn't Know Existed on StarWars.com (backup link on Archive.org)
 Rogue One—The Daring Mission Has Begun: Cast and Crew Announced on StarWars.com (backup link on Archive.org)
 New and Enhanced Star Wars Experiences Coming to Disney Parks on StarWars.com (backup link on Archive.org)
 Disney Announces Darth Vader-Inspired Playstation 4 Bundles at D23 on StarWars.com (backup link on Archive.org)
 Galaxy Wire: Star Wars News from Around the Web – August 18, 2015 on StarWars.com (backup link on Archive.org)
 Galaxy Wire: Star Wars News from Around the Web – August 25, 2015 on StarWars.com (backup link on Archive.org)
 The Force Awakens Around the World: Star Wars Fans Invited to Join Global Event on YouTube on StarWars.com (backup link on Archive.org)
Star Wars: Force Friday Preview on the official Star Wars YouTube Channel
 Droid Dreams: How Neal Scanlan and the Star Wars: The Force Awakens Team Brought BB-8 to Life on StarWars.com (backup link on Archive.org)
 EA Previews the Battle of Jakku in Star Wars Battlefront! on StarWars.com (backup link on Archive.org)
 New Footage of Star Wars: The Force Awakens Debuts on Instagram! on StarWars.com (backup link on Archive.org)
 Tattoo Tales: An Interview with The Force in the Flesh Author Shane Turgeon on StarWars.com (backup link on Archive.org)
 For Star Wars Fans, Disney Infinity 3.0 Toy Box Summit a Dream Come True on StarWars.com (backup link on Archive.org)
 Galaxy Wire: Star Wars News from Around the Web – September 1, 2015 on StarWars.com (backup link on Archive.org)
 The Star Wars: The Force Awakens Soundtrack Arrives December 18 on StarWars.com (backup link on Archive.org)
Notes and references
↑ 1.00 1.01 1.02 1.03 1.04 1.05 1.06 1.07 1.08 1.09 1.10  Star Wars Is Being Kick-Started with Dynamite J.J. Abrams to Direct Star Wars: Episode VII on StarWars.com (backup link on Archive.org)
↑ 2.0 2.1 2.2 2.3 2.4 2.5 2.6 2.7 DISNEY TO ACQUIRE LUCASFILM LTD.. The Walt Disney Company. thewaltdisneycompany.com (October 30, 2012). Retrieved on October 31, 2012.
↑ 3.00 3.01 3.02 3.03 3.04 3.05 3.06 3.07 3.08 3.09 3.10 3.11 3.12  Master Filmmaking Team Announced for Star Wars: Episode VII on StarWars.com (backup link on Archive.org)
↑ 4.00 4.01 4.02 4.03 4.04 4.05 4.06 4.07 4.08 4.09 4.10 4.11 4.12 4.13 4.14 4.15 4.16 4.17 4.18 4.19 4.20 4.21 4.22 4.23 4.24 4.25 4.26 4.27 4.28  Star Wars: Episode VII Cast Announced on StarWars.com (backup link on Archive.org)
↑ 5.0 5.1 5.2  Star Wars: Episode VII Adds Academy Award Winner Lupita Nyong'o and Game of Thrones' Gwendoline Christie on StarWars.com (backup link on Archive.org)
↑ 6.0 6.1 6.2 6.3 6.4  STAR WARS EPISODE VII PRODUCTION UPDATE on StarWars.com (backup link on Archive.org)
↑ 7.0 7.1 7.2  Star Wars Celebration Europe 2013: John Williams to Score Star Wars: Episode VII on StarWars.com (backup link on Archive.org)
↑ Armitage, Hugh (2013-12-16, 3:09 am EST). Star Wars Episode 7 script still not finalized - Movies News - Digital Spy. Digital Spy. Hearst Magazines UK. Retrieved on December 19, 2013.
↑ 10.0 10.1 10.2  Star Wars: Episode VII Set to Roll Cameras May 2014 on StarWars.com (backup link on Archive.org)
↑ @ManaByte (Jeremy Conrad) on Twitter. "Rebels = Resistance Empire = The First Order #TheForceAwakens" (screenshot)
↑ Farokhmanesh, Megan (2012-05-31, 12:00 pm). George Lucas Announces Retirement :: Movies :: News :: Paste. Paste Magazine. pastemagazine.com. Retrieved on October 31, 2012.
↑  Kathleen Kennedy to become Co-Chair of Lucasfilm Ltd. on StarWars.com (backup link on Archive.org)
↑ 15.0 15.1  New Video Series: A Discussion About the Future of Star Wars on StarWars.com (backup link on Archive.org)
↑ 16.0 16.1  Michael Arndt to Write Screenplay for Star Wars: Episode VII on StarWars.com (backup link on Archive.org)
↑ Brodesser-Akner, Claude (2012-11-08, 3:44pm). Update: Star Wars: Episode VII Writer Confirmed -- Vulture. Vulture - Entertainment News. vulture.com. Retrieved on November 10, 2012.
↑ Kit, Borys (2012-11-08, 1:22pm PST). New 'Star Wars' Movie Has Treatment by 'Toy Story 3' Writer - Hollywood Reporter. The Hollywood Reporter. hollywoodreporter.com. Retrieved on November 10, 2012.
↑ Kit, Borys (2012-11-09, 5:20pm PST). New Star Wars Movie: Michael Arndt to Write 'Episode VII.' Lucasfilm Confirms - Hollywood Reporter. The Hollywood Reporter. hollywoodreporter.com. Retrieved on November 10, 2012.
↑ Kit, Borys (November 20, 2012, 4:41pm PST). 'Star Wars': Lawrence Kasdan, Simon Kinberg to Write, Produce - Hollywood Reporter. The Hollywood Reporter. Retrieved on November 21, 2012.
↑ Stack, Tim (August 4, 2015). Simon Kinberg describes the brain trust that is plotting the next generation of Star Wars films. EW.com. Retrieved on August 20, 2015.
↑ Romano, Nick (January 20, 2015). How George Lucas' Star Wars 7 Ideas Were Used By Disney. Cinema Blend. Retrieved on January 20, 2015.
↑ Crow, David (April 18, 2015). Stephen Colbert Says He Never Wanted to Host The Daily Show. denofgeek.com. Retrieved on April 25, 2015.
↑ Appelo, Tim (April 5, 2014). Disney Chief Reveals 'Star Wars: VII' Casting Almost Complete, Says Film Is Already Shooting (Video). The Hollywood Reporter. Retrieved on April 6, 2014.
↑ Ray, Amber (April 6, 2014). 'Star Wars: Episode VII' has already begun filming, says Disney's Alan Horn -- VIDEO. Entertainment Weekly. Retrieved on April 6, 2014.
↑ Alan Horn Confirms Episode VII Filming In Abu Dhabi. TheForce.net (April 22, 2014). Retrieved on April 22, 2014.
↑ Everything I Can Tell You About 'Stars Wars': Horn. Bloomberg.com (April 22, 2014). Retrieved on May 1, 2014.
↑  The Legendary Star Wars Expanded Universe Turns a New Page on StarWars.com (backup link on Archive.org)
↑ Breznican, Anthony (December 15, 2014). 'Star Wars: The Force Awakens': Mark Hamill on his emotional -- and scruffy -- return as Luke Skywalker. EW.com.
↑ New Star Wars films 'would have bored me', says Scots actor Denis Lawson. thecourier.co.uk (May 5, 2014). Retrieved on May 9, 2014.
↑  Star Wars Star Wars Feature Film Production Returns to the U.K. on StarWars.com (backup link on Archive.org)
↑  Timeline Photos. Star Wars (May 16, 2014, 3:02 pm). Retrieved on May 16, 2014. "Officially begun, production has."
↑  Timeline Photos. Star Wars (May 16, 2014, 3:29 pm). Retrieved on May 16, 2014. "Day one at Pinewood Studios."
↑ BBFC admin (August 22, 2013). Star Wars Episode 7 to be Shot on Film by Dan Mindel. Boba Fett Fan Club. Retrieved on August 23, 2013.
↑ @bad_robot (Bad Robot Productions) on Twitter. "#bestformatever."
↑ Lang, Brent (October 29, 2014). With 'Interstellar,' Imax Takes Aim at the Bigger Picture. Variety. Retrieved on November 1, 2014.
↑ Chewbacca Actor Peter Mayhew Said To Return For Star Wars Episode VII. TheForce.net (April 7, 2014). Retrieved on April 7, 2014.
↑ Breznican, Anthony (August 13, 2015). Star Wars: The Force Awakens: Inside Harrison Ford's return as Han Solo. EW.com. Retrieved on August 20, 2015.
↑ Harrison Ford broke left leg in accident, publicist confirms. BBC News (June 19, 2014). Retrieved on June 19, 2014.
↑ 'Star Wars' Injury to Sideline Harrison Ford for Eight Weeks. The Hollywood Reporter (June 16, 2014). Retrieved on June 16, 2014.
↑ Heller, Corinne (July 31, 2015). J.J. Abrams Broke His Back Trying to Help Harrison Ford on Star Wars: The Force Awakens Set. E! Online. Retrieved on July 31, 2015.
↑ Hickey, Donal (2014-07-31). Star Wars in Kerry: The force is strong with this one.... Irish Examiner. Retrieved on August 1, 2014.
↑ 45.0 45.1 @starwars (Star Wars) on Twitter. "Star Wars: The Force Awakens has completed principal photography. #StarWarsVII #TheForceAwakens"
↑ Siggins, Lorna (August 1, 2015). Return of the Jedi: Star Wars goes back to the Skellig. The Irish Times. Retrieved on August 3, 2015.
↑ Rees, Alex (May 17, 2013). "Star Trek" Costume Designer Michael Kaplan On Dressing Starfleet And Keeping Trekkies Happy. Buzzfeed. Retrieved on May 19, 2013.
↑ Tallis, Justin (May 19, 2015). How Apple Inspired the Stormtroopers of Star Wars: The Force Awakens. vanityfair.com. Retrieved on June 15, 2015.
↑ Hibberd, James (September 16, 2014). Anthony Daniels' deep-dive 'Star Wars' interview: C-3PO's past, present and future. EW.com. Retrieved on September 19, 2014.
↑ 50.0 50.1 50.2 50.3 50.4  "R2-D2 Is in Star Wars: Episode VII, and He's Fan-Made," The Official Star Wars Blog
↑ Williams Says He 'Hopes' to Work on New Star Wars Trilogy. JWFan (February 11, 2013). Retrieved on February 21, 2013.
↑ Philiana Ng (April 30, 2013). J.J. Abrams Says John Williams Likely to Score 'Star Wars: Episode VII'. The Hollywood Reporter. Retrieved on April 30, 2013.
↑  John Williams to Record Star Wars: The Force Awakens Score in Los Angeles on StarWars.com (backup link on Archive.org)
↑ International Musician John Williams - Back Again to a Galaxy .... afm.org. Retrieved on August 20, 2015.
↑ 55.0 55.1 Graser, Marc (December 10, 2014). 'Star Wars' Theme Park Attractions to Be Based on New Films, Not Old (EXCLUSIVE). Variety. variety.com. Retrieved on December 11, 2014.
↑ 57.0 57.1  Star Wars: The Force Awakens Tease Theater List on StarWars.com (backup link on Archive.org)
↑ 58.00 58.01 58.02 58.03 58.04 58.05 58.06 58.07 58.08 58.09 58.10 58.11 58.12 58.13 58.14 58.15 58.16 58.17 58.18 58.19 58.20 58.21 Star Wars: The Force Awakens Official Teaser Trailer on the official Star Wars YouTube Channel
↑ 59.0 59.1 59.2 59.3 59.4 59.5 59.6 59.7 59.8 Breznican, Anthony (December 11, 2014). 'Star Wars: The Force Awakens' character names revealed (in coolest way possible) -- exclusive. Entertainment Weekly. Retrieved on December 11, 2014.
↑ Geller, Eric (November 10, 2014). J.J. Abrams And R2-D2 Cameo On John Oliver's Last Week Tonight. TheForce.net. Retrieved on November 12, 2014.
↑ Star Wars: The Force Awakens Official Teaser #2 on the official Star Wars YouTube Channel
↑ Leibovitz, Annie (May 3, 2015). The Cast of Star Wars: The Force Awakens on the Cover of Vanity Fair. Vanity Fair. Retrieved on May 3, 2015.
↑  Entertainment Weekly Previews Star Wars: The Force Awakens on StarWars.com (backup link on Archive.org)
↑ Dyer, James (August 21, 2015). Exclusive Empire Star Wars Cover Revealed. Empire. Retrieved on August 23, 2015.
↑ Dyer, James (August 21, 2015). Exclusive Empire's Second Star Wars Cover Revealed. Empire. Retrieved on August 23, 2015.
↑  Star Wars: The Force Awakens and More Coming to San Diego Comic-Con 2015 on StarWars.com (backup link on Archive.org)
↑ Gettell, Oliver (August 19, 2015). Drew Struzan says The Force Awakens could be 'the best Star Wars you've ever seen'. EW.com. Retrieved on August 20, 2015.
↑  New Footage of Star Wars: The Force Awakens Debuts on Instagram! on StarWars.com (backup link on Archive.org)
↑ 71.0 71.1 Star Wars: Force For Change Winner Reveal on the official Star Wars YouTube Channel
↑ Geller, Eric (December 18, 2014). J.J. Abrams And The Star Wars Crew Thank Fans For 'Force For Change' Donations. TheForce.net. Retrieved on December 18, 2014.
↑ 'Star Wars: Episode VII' Cast Takes Ice Bucket Challenge. Huffington Post (August 26, 2014). Retrieved on August 27, 2014.
↑ Dornbush, Jonathon (April 22, 2015). J.J. Abrams & Chewbacca took the Twizzler Challenge on Kimmel and basically remade Lady and the Tramp. ew.com. Retrieved on May 3, 2015.
↑  Lucasfilm and HP Celebrate Star Wars: The Force Awakens with "Art Awakens" Program on StarWars.com (backup link on Archive.org)
↑  New and Enhanced Star Wars Experiences Coming to Disney Parks on StarWars.com (backup link on Archive.org)
↑  Star Wars: The Force Awakens Products to Arrive on 'Force Friday,' September 4 on StarWars.com (backup link on Archive.org)
↑  "Journey to Star Wars: The Force Awakens" Publishing Program Coming Fall 2015 on StarWars.com (backup link on Archive.org)
↑ Breznican, Anthony (March 10, 2015). Star Wars to release 20 books in journey to The Force Awakens -- exclusive. Entertainment Weekly. Retrieved on March 10, 2015.
↑ Osborn, Alex. STAR WARS CELEBRATION: ALAN DEAN FOSTER WRITING THE FORCE AWAKENS NOVELIZATION. IGN. Retrieved on April 19, 2015.
↑  EA Previews the Battle of Jakku in Star Wars Battlefront! on StarWars.com (backup link on Archive.org)
↑ Harwell, Drew (August 17, 2015). With the force of 'Star Wars,' Disney tightens grip on toy universe. Washington Post. Retrieved on August 20, 2015.
↑ Rodriguez, Ashley (August 25, 2015). Target Captures Star Wars Fan Memories From 1977 to Today. adage.com. Retrieved on August 27, 2015.
↑ Grinberg, Emanuella (August 19, 2015). New ANA 'Star Wars' planes feature R2-D2 and BB-8. CNN.com. Retrieved on August 20, 2015.
↑ 89.0 89.1 89.2 89.3 89.4 89.5 Leibovitz, Annie (May 4, 2015). Adam Driver and Lupita Nyong'o's Characters Revealed in Exclusive Star Wars: The Force Awakens Photos. Vanity Fair. Retrieved on May 4, 2015.
↑ 90.0 90.1  Capturing a Galaxy: An Interview with Annie Leibovitz – Exclusive on StarWars.com (backup link on Archive.org)
↑ 92.0 92.1 92.2 92.3 Sanchez, Miranda (July 10, 2015). Comic Con 2015: New Star Wars Episode 7 Character Details. IGN. Retrieved on July 10, 2015.
↑ 95.0 95.1 95.2 95.3 Breznican, Anthony (August 12, 2015). Star Wars: The Force Awakens: J.J. Abrams explains what's in a name. Entertainment Weekly. Retrieved on August 12, 2015.
↑ 96.0 96.1  SDCC 2015: Star Wars: The Force Awakens Panel Liveblog on StarWars.com (backup link on Archive.org)
↑  Concept Artists for Past and Future Star Wars Films Coming to Celebration Europe on StarWars.com (backup link on Archive.org)
↑  B-U4D (Buford) in the Databank
↑  Sarco Plank in the Databank
↑  Unkar's Thugs in the Databank
↑  PZ-4CO (Peazy-Fourseeo) in the Databank
↑ 104.00 104.01 104.02 104.03 104.04 104.05 104.06 104.07 104.08 104.09 104.10 Star Wars: The Force Awakens Official Teaser #2 on the official Star Wars YouTube Channel
↑  Goss Toowers in the Databank
↑  Constable Zuvio in the Databank
↑ Lang, Derrik (April 17, 2015). 'Star Wars: Battlefront' unleashed at fan convention. Yahoo. Retrieved on April 17, 2015.
↑ 110.0 110.1 110.2 110.3 110.4 Closer look at The Force Awakens flametrooper, snowtrooper and more!. Star Wars 7 News. Retrieved on April 16, 2015.
↑ 112.0 112.1  Guavin Death Gang Enforcers in the Databank
↑ Breznican, Anthony (August 12, 2015). Star Wars: The Force Awakens: Kylo Ren's shroud is pulled back at last, but.... Entertainment Weekly. Retrieved on August 12, 2015.
↑ Star Wars: The Force Awakens Global Toy Unboxing Live Stream Event on the official Star Wars YouTube Channel
↑ 115.0 115.1  Resistance X-Wing in the Databank
↑ 116.0 116.1 116.2 116.3 Star Wars: The Force Awakens - Comic-Con 2015 Reel on the official Star Wars YouTube Channel
↑ 117.0 117.1 117.2 @starwars (Star Wars) on Twitter. "It is in fact an Episode VII X-wing, not a Z-95."
↑ 119.0 119.1 119.2 119.3 Bad Robot Productions (September 18, 2014). HUNKA JUNK. YouTube. Retrieved on September 18, 2014.
↑ 120.0 120.1  Kylo Ren's Command Shuttle in the Databank
External links