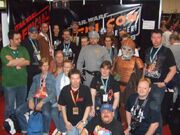 Offizieller Star Wars Fan Club (OSWFC) is the official Star Wars Fan Club in Germany. The Club was founded in 1981 under the name European Star Wars Fan Club. In 1995 the club gained the licence to be called the official Star Wars fan club Germany and changed its name to Offizieller Star Wars Fan Club (Official Star Wars Fan Club).
The OSWFC is owned by the company Miracle Images GmbH, which was formed to run the official fan club. Miracle Images is also publishing Star Wars - Das offizielle Magazin and the fan club edition Journal of the Whills. Miracle Images also published Star Trek - Das offizielle Magazin which was the counterpart to the official German Star Wars magazine.
The OSWFC has about 7000 members which receive the club edition of the official Star Wars magazine. Members of the OSWFC can subscribe to Hyperspace which is not a regular part of the membership. OSWFC members gain benefits on all official Conventions, like the Celebration Europe. The OSWFC is also well known for the Jedi Con, the biggest Star Wars Convention in Germany.
External links
Edit
Ad blocker interference detected!
Wikia is a free-to-use site that makes money from advertising. We have a modified experience for viewers using ad blockers

Wikia is not accessible if you've made further modifications. Remove the custom ad blocker rule(s) and the page will load as expected.