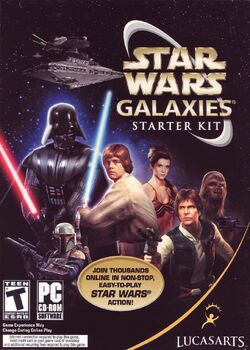 Star Wars Galaxies: Starter Kit is a compilation release for the massively-multiplayer online role-playing game Star Wars Galaxies: An Empire Divided. It was released to tie-in with the New Game Enhancements released for the game only weeks earlier. The Starter Kit was released on November 22nd, 2005.
It includes the base game, An Empire Divided and the first expansion, Jump to Lightspeed. It also includes an in-game reward known as an Instant Travel Vehicle. Players can choose either a TIE fighter or X-wing. The vehicle can then be called down on most any planet in the game, which the player can use to travel to any shuttle or space port on the planet.
Ad blocker interference detected!
Wikia is a free-to-use site that makes money from advertising. We have a modified experience for viewers using ad blockers

Wikia is not accessible if you've made further modifications. Remove the custom ad blocker rule(s) and the page will load as expected.