Star Wars Infinites: Return of the Jedi #3 is the third issue in the Star Wars Infinities: Return of the Jedi series of comics. It was published on March 3, 2004 by Dark Horse Comics.
Publisher's summary
Edit
Han is rescued, but Luke has been captured, and Leia's determination to free him has led to a precipitous and premature attack on the Death Star! Meanwhile the Rebel ground troops on Endor have run into their own problems. It all leads up to a surprising setback for the Rebel Alliance - and for Luke Skywalker in particular!
The events of Return of the Jedi have been altered from what you saw in the film! The characters are the same, but the adventure is all new!
Collections
Edit
External links
Edit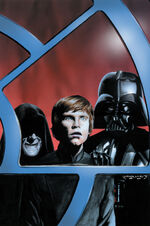 Ad blocker interference detected!
Wikia is a free-to-use site that makes money from advertising. We have a modified experience for viewers using ad blockers

Wikia is not accessible if you've made further modifications. Remove the custom ad blocker rule(s) and the page will load as expected.