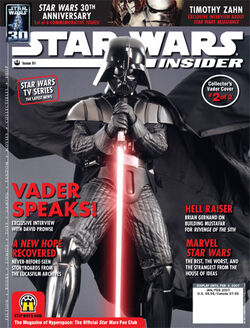 Star Wars Insider 91 is the 91st issue of Star Wars Insider, released in November 2006.
David Prowse reflects on 30 years living in Darth Vader's dark side
Head of ILM's model shop for Episodes II and III, Brian Gernand talks about building Mustafar for the last Star Wars movie. Plus, behind-the-scenes images.
Marvel's legacy includes some of the Expanded Universe's greatest moments—and some of its goofiest
Departments
Edit
External links
Edit
Ad blocker interference detected!
Wikia is a free-to-use site that makes money from advertising. We have a modified experience for viewers using ad blockers

Wikia is not accessible if you've made further modifications. Remove the custom ad blocker rule(s) and the page will load as expected.