Star Wars: Knights of the Old Republic 22: Knights of Suffering, Part 1
Talk

2
107,692pages on
this wiki
Star Wars Knights of the Old Republic 22: Knights of Suffering, Part 1 is the twenty-second issue in the Star Wars: Knights of the Old Republic series of comics.
Publisher's summary
Edit
The new story arc, "Knights of Suffering" begins here, bringing fugitive Padawan Zayne Carrick back to Taris—the scene of his alleged crime, now overrun by the Mandalorian army!
Deep in the lower city of Taris, swoop bike gangs battle Mandalorian troops in the streets. An organized resistance to the invasion was taking shape thanks to an old friend of Zayne's, but something went terribly wrong.
Reunions and betrayals follow Zayne into the heart of a war zone in this action-packed new issue of Knights of the Old Republic!
Continuing the ongoing monthly series set nearly four thousand years before the rise of the Empire and the fall of Anakin Skywalker (and seven years prior to the events in the Knights of the Old Republic video game).
Reunions, betrayals, and more in this action-packed issue!
Appearances
Edit
Characters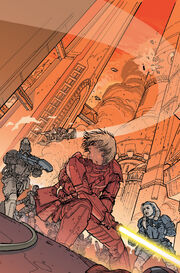 Creatures
Droid models
Events
Locations
Organizations and titles
Sentient species
Vehicles and vessels
Weapons and technology
Miscellanea
News Organ
Edit
Collections
Edit
Behind the scenes
Edit
When the Hidden Beks ride out to meet the Taris Resistance, they fly past two neon signs containing Aurebesh text. The pink sign says "HORIZONAL", and the green one says "DANCE".
External links
Edit