Legacy 33: Fight Another Day, Part 2 is the thirty-third issue of the Star Wars: Legacy comic series and the second issue in the Star Wars: Legacy: Fight Another Day story arc.
Publisher's summary
Edit
With the objective of exterminating the entire Mon Calamari species, the Sith have created a semisentient bioweapon, a creature that can kill selectively. This Sith leviathan has already been unleashed on one underwater Mon Cal refugee camp, and it now swims the waters of Dac searching for more victims. The Mon Cal Rangers, with the help of Imperial Knight Treis Sinde, must find a way to destroy the leviathan before it clears the remaining Mon Calamarians from the galaxy forever!
Appearances
Edit
Characters
Creatures
Events
Locations
Organizations and titles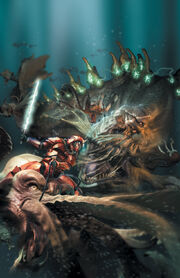 Sentient species
Vehicles and vessels
Weapons and technology
Miscellanea
Collections
Edit
External links
Edit
Ad blocker interference detected!
Wikia is a free-to-use site that makes money from advertising. We have a modified experience for viewers using ad blockers

Wikia is not accessible if you've made further modifications. Remove the custom ad blocker rule(s) and the page will load as expected.