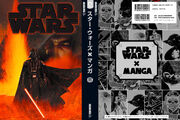 Star Wars Manga was a series of manga style comics adapting films from the Star Wars saga. The original trilogy and The Phantom Menace were adapted. Tokyopop also released two new manga books in the vein of Star Wars Tales. In 2009, Take Shobo published two manga books based on The Clone Wars television series. All Star Wars Manga is considered Infinities or Non-Canon within the Legends timeline.
Ad blocker interference detected!
Wikia is a free-to-use site that makes money from advertising. We have a modified experience for viewers using ad blockers

Wikia is not accessible if you've made further modifications. Remove the custom ad blocker rule(s) and the page will load as expected.