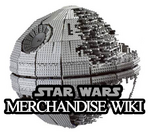 The Star Wars Merchandise Wiki is a Star Wars wiki for merchandise, such as LEGO sets and Hasbro and Kenner action figures. It was started by Jorrel Fraajic on February 19th, 2007. It is currently maintained by several users who also work on Wookieepedia and the Star Wars Fanon Wiki.
External links
Edit
Ad blocker interference detected!
Wikia is a free-to-use site that makes money from advertising. We have a modified experience for viewers using ad blockers

Wikia is not accessible if you've made further modifications. Remove the custom ad blocker rule(s) and the page will load as expected.