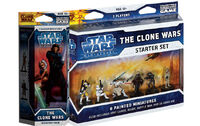 The Clone Wars is a Star Wars Miniatures set released November 4 2008 and based on Star Wars: The Clone Wars. The booster cover art was done by Terese Nielsen.
Rarity denoted as follows: Common (C), Uncommon (U), Rare (R), Very Rare (VR)
SITH
REPUBLIC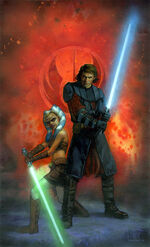 SEPARATIST
FRINGE
Clone Wars Starter Set List
Edit
REPUBLIC
1. General Obi-Wan Kenobi(F)
2. Clone Trooper (F)
3. Clone Trooper Commander(F)
SEPARATIST
4. Count Dooku of Serenno(F)
5. Security Battle Droid(F)
6. Super Battle Droid Commander(F)
External links
Edit
Ad blocker interference detected!
Wikia is a free-to-use site that makes money from advertising. We have a modified experience for viewers using ad blockers

Wikia is not accessible if you've made further modifications. Remove the custom ad blocker rule(s) and the page will load as expected.