Early Victories is the seventh Star Wars Omnibus collection from Dark Horse Comics.
Publisher's summary
Edit
Following the destruction of the first Death Star, Luke Skywalker is the new, unexpected hero of the Rebellion. But the galaxy hasn't been saved yet - Luke and Princess Leia are finding there are many more battles to be fought against Darth Vader and the Empire! This latest Star Wars Omnibus reprints many of the early tales of the Rebellion. First, we have Shadow Stalker, Tales from Mos Eisley, and River of Chaos - all of which are long out of print and have never before been collected! Then, Splinter of the Mind's Eye, a story created by George Lucas and Alan Dean Foster before there were plans for any films past Star Wars: Episode IV A New Hope. And last is Vader's Quest, in which Vader learns the secret kept from him by Yoda and Obi-Wan: that he has a son!
Collected issues
Edit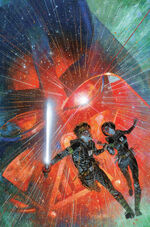 Ad blocker interference detected!
Wikia is a free-to-use site that makes money from advertising. We have a modified experience for viewers using ad blockers

Wikia is not accessible if you've made further modifications. Remove the custom ad blocker rule(s) and the page will load as expected.