Star Wars Rebels
Talk

14
107,657pages on
this wiki
Star Wars Rebels
Format

Animated

Network
Writer(s)
Executive producer(s)
Timeline
Era
First aired

Fall 2014
Star Wars Rebels is an animated television series set in approximately 5 BBY, during the timespan between the films Star Wars Episode III: Revenge of the Sith and Star Wars Episode IV: A New Hope. It will begin airing in Fall 2014 on Disney XD.
Plot summary
Premise
The series will begin in approximately 5 BBY, fourteen years into the reign of the Galactic Empire.[1] The general premise is described as follows:
"It is a dark time in the galaxy, as the evil Galactic Empire tightens its grip of power from world to world. As the series begins, Imperial forces have occupied a remote planet, ruling with an iron fist and ruining the lives of its people. But there are a select few who are brave enough to stand up against the endless Stormtroopers and TIE fighters of the Empire: the clever and motley crew of the starship Ghost. Together, this ragtag group will face threatening new villains, have thrilling adventures, and become heroes."[2]
Characters
There will be a set of main characters, including male heroes and two primary female leads. The same diversity will also extend to the series' villains,[3] including an Inquisitor.[1]
Production
Lucasfilm Ltd. veteran sculptor Darren Marshall, who worked on Star Wars: The Clone Wars prior to its cancellation, developed sculpts for the core characters of Star Wars Rebels before leaving Lucasfilm in June 2013.[4] By December 2013, the production crew had finished developing the series' first season and had begun animating the first script.[5]
Release
Star Wars Rebels was first announced on March 11, 2013, as an unnamed animated series set to replace Star Wars: The Clone Wars.[6] Its name and premiere date were announced in a press release on May 20, 2013. It will premiere in Fall 2014 with a one-hour special on Disney Channel written by Executive Producer Simon Kinberg. Following the premiere, the series will move to Disney XD.[7]
Crew
Several crew members from The Clone Wars, which was pulled from the air in 2013, are returning for Rebels:
Appearances
Characters
Locations
Organizations and titles
Sentient species
Vehicles and vessels
Weapons and technology
Sources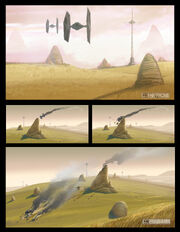 Notes and references
↑ 1.00 1.01 1.02 1.03 1.04 1.05 1.06 1.07 1.08 1.09 1.10 1.11 1.12 1.13 1.14 1.15 1.16 1.17 1.18 1.19 1.20 1.21 1.22  NYCC 2013: Meet the Inquisitor, the New Face of Evil in Star Wars Rebels on StarWars.com (backup link on Archive.org)
↑ 7.0 7.1 7.2 7.3  New Animated Series Star Wars Rebels Coming Fall 2014 on StarWars.com (backup link on Archive.org)
↑ 10.0 10.1  "Seen a ghost?," The Official Star Wars Blog
External links