Star Wars Tales #14 is the fourteenth issue in the Star Wars Tales series of comics. It was published on December 11, 2002 by Dark Horse Comics.
Publisher's summary
Edit
Who shot first? Han or Greedo? Depending on which version of Star Wars: A New Hope you watch either answer is correct. Now, for the first time in Star Wars Tales #14, the question goes before a court of law! Han Solo is sued for the wrongful death of Greedo by the Rodian's mother in "The Emperor's Court!" Also featured is Stan Sakai's tale of a young Anakin Skywalker in "Urchins" and a unique look at the battle of Endor in "We Were Stormtroopers." Plus much, much more! Featuring a cover by Dreamwave's Pat Lee!
Collected in
Edit
External links
Edit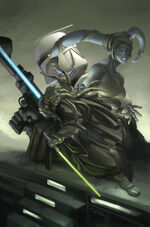 Ad blocker interference detected!
Wikia is a free-to-use site that makes money from advertising. We have a modified experience for viewers using ad blockers

Wikia is not accessible if you've made further modifications. Remove the custom ad blocker rule(s) and the page will load as expected.