Star Wars Tales #17 is the seventeenth issue in the Star Wars Tales series of comics. It was published on October 1, 2003 by Dark Horse Comics.
Publisher's summary
Edit
Welcome to the dark side! In this issue of Star Wars Tales we turn our attention to all that is dark, creepy, and evil, bringing you tales sure to chill you to your core! Watch as Chewbacca comes face to face with undead specters on Hoth! Scream as Han Solo tries desperately to overcome a zombie hoard! And gasp in shock as Luke Skywalker battles a ghostly Darth Maul! This issue of Tales is sure to leave you SCREAMING for more!
Collected in
Edit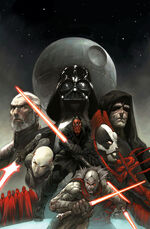 External links
Edit
Ad blocker interference detected!
Wikia is a free-to-use site that makes money from advertising. We have a modified experience for viewers using ad blockers

Wikia is not accessible if you've made further modifications. Remove the custom ad blocker rule(s) and the page will load as expected.