Star Wars Tales #2 is the second issue in the Star Wars Tales series of comics. It was published on January 5, 2000 by Dark Horse Comics.
Publisher's summary
Edit
A nervous deep spacer reveals his blaster-slinging agenda in "Incident at Horn Station" by Dan Jolley and Sean Phillips! Dave Cooper tells the tale of the Max Rebo Band and their stolen instruments in "Stop that Jawa!" And Ron Marz and Claudio Castellini return to finish the tale of Darth Vader vs. the Dark Woman in "Extinction"! This is Star Wars as you've never seen it before!
Collected in
Edit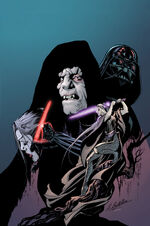 Ad blocker interference detected!
Wikia is a free-to-use site that makes money from advertising. We have a modified experience for viewers using ad blockers

Wikia is not accessible if you've made further modifications. Remove the custom ad blocker rule(s) and the page will load as expected.