Star Wars Tales #20 is the twentieth issue in the Star Wars Tales series of comics. It was published on June 30, 2004 by Dark Horse Comics.
Publisher's summary
Edit
This issue features some of the heavy hitters from the world of indy comics! Gasp as Tony Millionaire (Sock Monkey) offers up a story featuring JAR JAR BINKS'S long suffering father—George R. Binks! Squeal in delight at Peter Bagge (Hate) exposes the underdeveloped leadership skills of Senate Representative JAR JAR BINKS! Gasp as James Kolchaka (American Elf) chronicles the exploits of Boba Fett's cousin Melvin as he tries to assassinate a JAR JAR BINKS sippy cup! And marvel at the utter lack of JAR JAR BINKS in stories by Gilbert Hernandez (Love & Rockets) and Bob Fingerman (Minimum Wage)! Plus much MORE!
Collected in
Edit
External links
Edit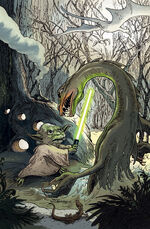 Ad blocker interference detected!
Wikia is a free-to-use site that makes money from advertising. We have a modified experience for viewers using ad blockers

Wikia is not accessible if you've made further modifications. Remove the custom ad blocker rule(s) and the page will load as expected.