Star Wars Tales #3 is the third issue in the Star Wars Tales series of comics. It was published on March 29, 2000 by Dark Horse Comics.
Publisher's summary
Edit
The Galaxy's greatest comics anthology features the world's greatest comics creators and their spins on the Star Wars saga, both within and beyond the continuity! Lando Calrissian gambles for an immense prize: an entire city! Jar Jar Binks discovers that the bonds of friendship can only be stretched so far. And an unlikely pair take the galaxy by storm!
Collected in
Edit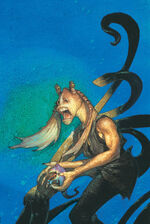 Ad blocker interference detected!
Wikia is a free-to-use site that makes money from advertising. We have a modified experience for viewers using ad blockers

Wikia is not accessible if you've made further modifications. Remove the custom ad blocker rule(s) and the page will load as expected.