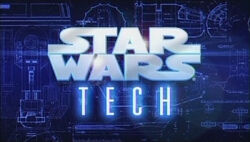 Star Wars Tech is a documentary about the technical aspects of Star Wars, from Darth Vader's robotic limbs to the lightsaber to how an X-wing compares to modern jets. The one-hour program (46 minutes without commercials) debuted on The History Channel on May 28, 2007, coinciding roughly with the 30-year anniversary of Star Wars. The program was later released on DVD and was included in the Star Wars saga Blu-Ray box set.[1]
Notes and references
Edit
External links
Edit
Ad blocker interference detected!
Wikia is a free-to-use site that makes money from advertising. We have a modified experience for viewers using ad blockers

Wikia is not accessible if you've made further modifications. Remove the custom ad blocker rule(s) and the page will load as expected.