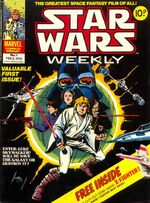 Star Wars Weekly was the original title of Marvel UK's Star Wars comic series. The weekly series reprinted stories from Marvel Comics' American Star Wars comic, along with several original tales. The American comic's issues were usually split into smaller segments and appeared over a number of issues.
After issue #117, the series was retitled The Empire Strikes Back Weekly, though the numbering system continued unchanged.
Ad blocker interference detected!
Wikia is a free-to-use site that makes money from advertising. We have a modified experience for viewers using ad blockers

Wikia is not accessible if you've made further modifications. Remove the custom ad blocker rule(s) and the page will load as expected.