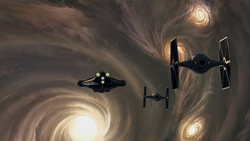 A star cluster was a grouping of stars. Any starships that got too close to a star cluster would be destroyed by its powerful gravity field. At some point, a star cluster imploded somewhere in Wild Space, forming a powerful, maze-like energy anomaly. That anomaly concealed the location of Lira San, the original homeworld of the Lasat people.[1] The Minos Cluster was a star cluster within the borders of the Galactic Empire.[2]
Appearances
Edit
Notes and references
Edit
Ad blocker interference detected!
Wikia is a free-to-use site that makes money from advertising. We have a modified experience for viewers using ad blockers

Wikia is not accessible if you've made further modifications. Remove the custom ad blocker rule(s) and the page will load as expected.