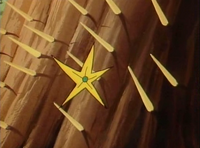 "What's the third ingredient?"
"A star-shaped quill from one of the dandelion warriors."
―Wicket Warrick and the shaman Logray
"Star urchin quills" was the name given by Ewok shamans to the venomous quills of the fftssfft, a species of semi-sapient plants also known as the "dandelion warriors." Despite their potentially lethal nature, those star-shaped quills could be used in traditional Ewok medicine.
Appearances
Edit
Ad blocker interference detected!
Wikia is a free-to-use site that makes money from advertising. We have a modified experience for viewers using ad blockers

Wikia is not accessible if you've made further modifications. Remove the custom ad blocker rule(s) and the page will load as expected.