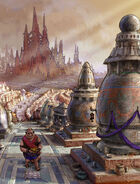 Stela were monuments to deceased individuals, which together made up the vast Tract of Makem Te. Each stela was placed on a two-meter square of shiny stone that abutted the neighboring tiles. Each such monument was thought by the Swokes Swokes species to house the spirit of the deceased.
Ad blocker interference detected!
Wikia is a free-to-use site that makes money from advertising. We have a modified experience for viewers using ad blockers

Wikia is not accessible if you've made further modifications. Remove the custom ad blocker rule(s) and the page will load as expected.