Stennes were a Near-Human sentient species from the planet, Stennaros. A Force-sensitive offshoot of their species evolved over time, known as the Stennes Shifters. The mainline Stennes joined many others in the galaxy who hunted the Shifters, attempting to drive the Force-imbued species from their joint homeworld. Due to the intrusion of outsiders seeking to wipe out the Shifters, their world had become scarred and damaged. This led the Stennes to become xenophobic; they were quite culturally advanced and sociable within their own system, however.
Appearances
Edit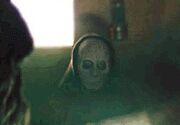 Notes and references
Edit
Ad blocker interference detected!
Wikia is a free-to-use site that makes money from advertising. We have a modified experience for viewers using ad blockers

Wikia is not accessible if you've made further modifications. Remove the custom ad blocker rule(s) and the page will load as expected.