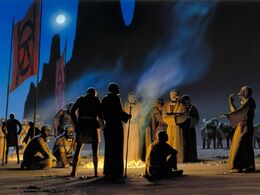 A Storyteller was a member of a Sandpeople clan with the exclusive right to retell the history of their people. Each Sandpeople clan had only one Storyteller, who was required to learn all the lore from his predecessor by heart. Apprentices were taught the story from birth. A learning apprentice would rarely speak incorrectly. Changing a story's details was forbidden on penalty of death.
In fact, most storytellers died in battle instead of misspeaking the story. If a tribe lost its storyteller, the tribe lost its history and was "not worthy" of existence. Infighting would then lead to the demise of the tribe.
Appearances
Edit
Ad blocker interference detected!
Wikia is a free-to-use site that makes money from advertising. We have a modified experience for viewers using ad blockers

Wikia is not accessible if you've made further modifications. Remove the custom ad blocker rule(s) and the page will load as expected.