"Uses powerful strikes to batter through defenses. This style incorporates great range and power, but often leaves the Jedi open to attack."
―Description of the strong style
The strong style of lightsaber combat was a style used by both Jedi and Dark Jedi during the New Republic era, including Kyle Katarn, Desann, and possibly Jaden Korr.
Description
Edit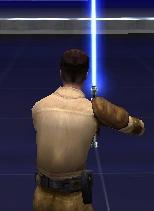 The strong style was based primarily on powerful strikes to batter through an opponent's defense, sacrificing speed for unrivaled power. The strong style covered great distance, and was virtually unstoppable unless the opponent responded in kind. Due to its utilization of strength and power, the strong style would cause more damage than many other forms of lightsaber combat, while its range and power made it especially efficient against single opponents who were armed with melee weapons. In lightsaber duels, the powerful strikes of this style could break through lightsaber blocks with relative ease. On rare occasions when a lightsaber lock occurred, a user could usually win the lock by ripping the opponent's blade away, leaving him defenseless. This style was quite destructive, and if the practitioner were presented with an opening, it would almost always cause a devastating blow.[1][2]
Being based on slow, powerful swinging attacks, users of the strong style would often leave themselves open to counterattacks and open to blaster fire. The style could thus be disadvantageous in one-on-one melee combat in terms of speed comparisons against faster opponents, although its range and penetration power could just as easily negate these disadvantages. It was weak against blaster shots, as the stance required that the user shift the blade quite a bit to cover the body. Thus, it was almost solely utilized in lightsaber combat.[1][2]
Applications
Edit
"Come get me, Jedi!"
―The signature taunt of the Disciples of Ragnos, who were known to use the strong style
Users of the strong style would typically utilize an aggressive and powerful stance, the lightsaber being held high and back, ready to deliver powerful swings with the blade. A few more physically powerful beings such as Desann used a one-handed variant of this style to great effect.[1]
The style incorporated great power, sharing some features with other aggressive styles associated with the Jedi Order—especially the strength-oriented Djem So. It also shared similarities to the Juyo subset of Form VII, which likewise sacrificed defense for the sake of a more powerful offense, and the wide sweeps of Shii-Cho and Makashi for its powerful and precise attacks. Elements of Ataru also seemed to be incorporated, most notably its offensive nature and opening stance. The strong style was a very offensively focused style, as the stance and windup time for each swing left the user very open to attack. The basic idea behind the strong style was to batter one's opponent into submission through raw power. Defense was limited to either the user swinging their blade directly at their opponent's strike, or blocking and then disarming the opponent, usually with a sharp spin of the blade.
The strong style, being powerful but slow, benefited considerably from the use of Force speed.
Appearances
Edit
Notes and references
Edit
Ad blocker interference detected!
Wikia is a free-to-use site that makes money from advertising. We have a modified experience for viewers using ad blockers

Wikia is not accessible if you've made further modifications. Remove the custom ad blocker rule(s) and the page will load as expected.